There are times when we want to combine all the things of life for which we are penchant. But this never happens in reality. German company Linshof has pledged to make this reality somehow true, with its first ever smartphone Linshof i8. In what way is the smartphone unique? The phone will use the Android Operating system but the user interface will be of Windows Phone. That means the desktop of the smartphone will like that of a Windows Phone but will run Android. It is also heard that the phone will consolidate these two features along with the stringent security service of Blackberry.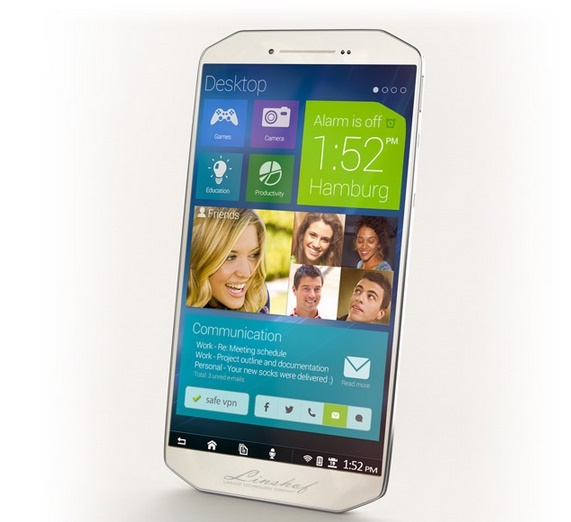 The phone looks quite unconventional which intrigues the curiosity of users. Unlike the smartphones that we are generally accustomed with, it will have a octagonal shape with nearly sharp edges and not a rectangle. It is rumored that the phone will use a octa-core processor and this octagon shape might be a representation of what's inside. Although there has been no confirmation regarding the manufacturer, but we are inquisitive to know how public reacts to this bit odd shape.
We got to know that Linshof i8 will have a 5-inch full HD display, 3 GB fast clocked RAM with an in-built Phone memory of 80 GB which is amazing indeed. The division of memory will be such that 16 GB of this 80 GB will be allocated to system functioning and apps management and the remaining 64 GB will be solely for media storage like images, music and videos. The camera specs will even not disappoint you. A 13 MP rear camera and an 8 MP front camera are not at all bad. The device will come from factory with the latest version of Android, Android 5.0 Lollipop and the unique UI will be known as the Linshof UI. You will have an additional option of Linux UI. Other specs include Cell capacity of 3100 mAh (Lithium-Polymer ion),Bluetooth v4.0, GPS, HDMI 1.4 with 3D support, USB port, electronic compass, gyroscope, NFC and WiFi/ LTE (4G) wireless.
According to Linshof, "i8 is everything you need it to be and goes beyond a consumer device. It's a true business tool. It meets enterprise-grade security requirements and runs smoothly, even while using the most demanding programs."
The phone will be available in two colors- the black version and the white coffee version. The price of the phone is $380. The exact date of arrival is not yet known but the company confirms tha it will be available by the second fiscal quarter of 2015.
Source: Linshof | Images via Linshof