Great news for Android users! Mobile game developer Rolocule has launched next generation mobile gaming for the Android smartphones, Motion Tennis Cast on Google Play. Motion Tennis will use Chromecast mirroring to recreate Wii Sports. Back in 2013, Rolocule has launched Motion Tennis for iPhones and Apple TVs. The app leveraged with Apple TV and iPhone AirPlay Mirroring to turn the handset into a virtual racquet. And now one can play with their Android smartphone as motion controller with Google's Chromecast.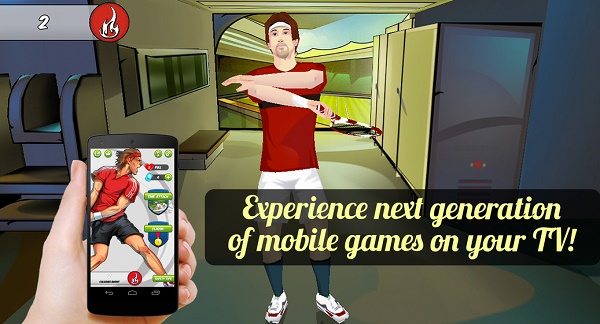 The early demo of the Motion Tennis Cast for the Android version has been demonstrated on Nexus 5 using the mirroring feature announced at Google I/O. Rolocule says it's working on Miracast support, so no need to worry if you don't have a Chromecast dongle. Motion Tennis Cast is a free download, with in-app purchases, and also works with Chrome browsers, and smart TVs with Miracast or AllShareCast support in addition to Chromecast.
Rohit Gupta, CEO of Rolocule Games said that "We are really excited to bring Motion Tennis Cast on Android. Not only does it bring the most intuitive tennis experience to Android, it showcases the power of Google ecosystem." He also added "Pretty soon users will be able to use their Android Wear for playing games or staying fit using our award winning motion tracking technology – rolomotion – Motion Tennis Cast is a step in that direction."
The game was available in Beta version for quite some time and the final version also works pretty well. Now you can play a simple tennis game on your TV or browser with your own android smartphone like a Wii Motion Controller. First you need to download the app and install it on your smartphone. Then you just have to adjust Chromecast by standing in front of your TV. There are few buttons that controls the motions. The gameplay is every simple. You just need to sway and swing your arm to serve and volley against the AI-controlled opponent with your smartphone which will in turn make your on-screen character automatically move into the right position at the right time. You need to say alert for your turn and return your shots correctly. The game has two game play types and four difficulty levels which make it more interesting.
So, now you can play Wii like motion games without the need of expensive gaming consoles.