If you look into the scenario of India regarding mobile phone markets, Nokia has been an all time favorite brand. From low cost hardy phones to costly multimedia sets, there's no comparison to the business Nokia did in India. But since the advent of smartphones in the market the equation has changed and common people prefer Android over Windows Phone. So essentially the demand of Nokia decreased.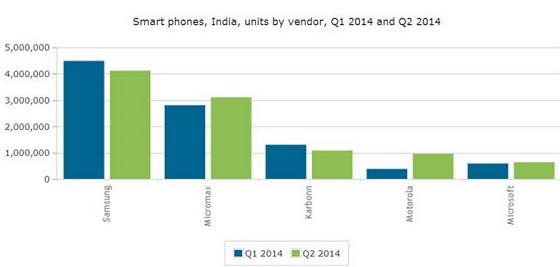 Recently a new research report from Canalys reveals that Motorola is escalating fast in India. By June 2014 Motorola became the fourth largest seller of smartphones in the country beating Nokia. Motorola sold nearly 955,650 smartphones in the three month period while Nokia shipped 633,720 handsets by the period of June 2014. That is just a flip from the scenario of first quarter of 2014, when Nokia shipped 583,160 smartphones, compared to the 379,310 smartphones shipped by Motorola.
We know that the entire Galaxy series of Samsung succumbed much of the smartphone demands and topped the list shipping 4.4 million handsets in India. Smartphones shipped by Motorola for the the first 2 quarters sum up to 1.33 million units while Nokia shipped 1.21 million for Nokia. Micromax is doing a great business shipping about 3.1 million sets while a modest 1.07 million phones are shipped by Karbonn. The main credit for this great leap of Motorola goes to the huge craze for Moto G and Moto E.The price cut of Moto G by 2000 rupees ($33 USD) for a limited time added the zing. The 8GB model costs INR 10,499 ($172 USD). The 16GB model costs INR 11,999 ($196 USD). Moto X is priced at INR 23,999 ($393 USD) while the entry-level Moto E will costs INR 999 ($115 USD).