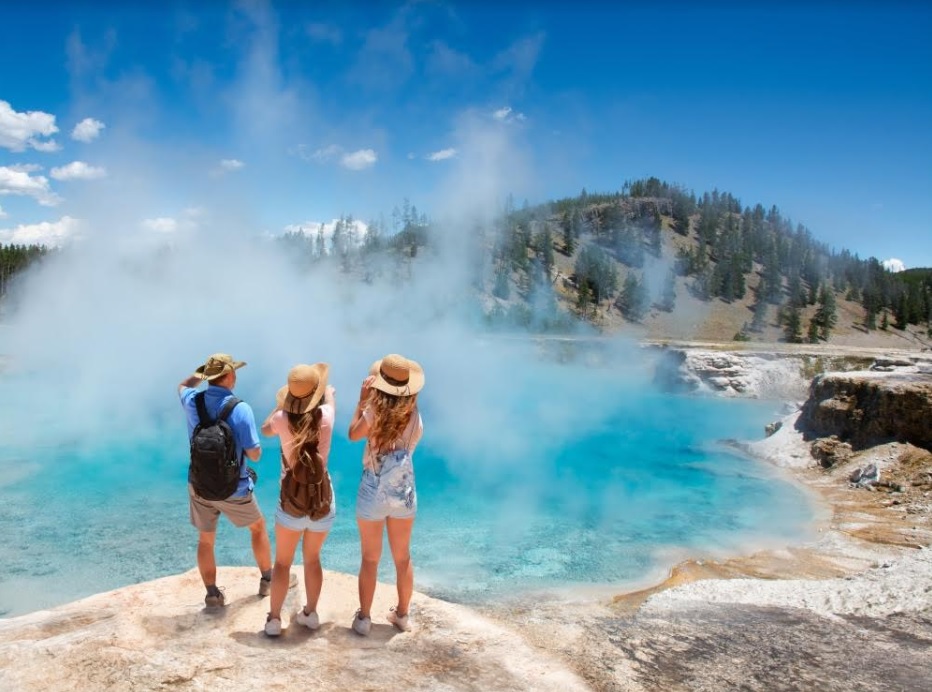 Summer is nearly here, and you may be looking forward to planning a trip with your family. 
However, we know the COVID-19 outbreak is still on your minds. It has affected about 5,200,000 people across the world to date. The massive overturn of events has made traveling even more difficult even after the pandemic ends. 
And if you considering a trip to the United States, that is not going to be anytime soon. America has one of the highest numbers of confirmed cases, so we are going to see quite some stringent restrictions in traveling to the country now.
COVID-19 has stressed people out, and if you want a trip post the crisis, we will suggest some of the most relaxing places to visit in the U.S.

Where Can You Go For Your Next Vacation?
Here are some of the places you can visit in the U.S. that are safe and fun for you.

#1 Yellowstone
Grand Canyon of the Yellowstone, gazes at the Grand Prismatic Spring's hues and wild animals. This place is special for nature lovers: some fun events, good hotels attract-travelers.

#2 Chicago
Millennium Park is the main attraction, with futuristic agriculture and art, a smorgasbord of free concerts and exhibitions. Wrigley Ville baseball stadium, Chicago's hot dog, and MLB's Cub play along with pleasant weather.

#3 Glacier National
Montana Glacier National Park is a trendy spot to visit when in the U.S. It is known for its various geographical features like the waterfalls, the lakes, and the mountain ranges. Popular in July and August, this might just be the place you would want to visit.

#4 Dry Tortugas, Florida
These are a small group of islands that makes for one of the best eco-attractions in the world. At first, take a boat and get there and enjoy several activities like snorkeling, camping and so many more.

#5 Olympic Coast beaches, Washington
From cliffs sinking into the sea to rocky and sandy beaches, this is just the place to be. Go for hiking, birdwatching, or kayaking – there is a lot to do here. One of the most relaxing places handmade for a coastal retreat.

#6 Kennebunkport, Maine
Kennebunkport gained popularity once everyone realized Bush had been vacationing here for years now. Take the boat tours, chill on the beaches for a simple and relaxing vacation. The best time to visit this place is June to October.

#7 Martha's Vineyard, Massachusetts
These are a perfect hideaway from the world of noise and cacophony. Did you know that former President Barack Obama is a frequent visitor to the Martha's Vineyard? With sandy beaches and picture-perfect nature trails, it is a place worth visiting.

#8 Snowmass, Colorado
Whether you want to go for whitewater rafting, horseback riding, mountain biking, or even golfing, there is no better place than the Snowmass, Colorado. Light up a campfire and enjoy the picturesque location in all its beauty.

What to check?
If you are looking to visit U.S., know what the visa and immigration requirements are and what the Customs and Border Protection needs. A person overseas is elected to use a visa waiver or B-1/B-2 visitor visa to come to the U.S. to "wait out," assuming he is from the safe area of the country for at least 14 days.
If they have sufficient funds to live in the U. S., they can live but with the intent of returning home. 
If you have applied for a VWP visa, then the process will be much smoother. The visa application for VWP countries is much simpler with ESTA. You can apply online on their website to check if you are eligible to visit the United States.
You can check the esta check status online. Here are some of the things you should know. 
When a traveler enters the U. S., they may be requested to cite the traveler's intent.
Secondly, all relevant documents need to be available with the traveler.
Travelers can enjoy an extension of their travels for up to 6 months.
The Other Things to Note
All travelers under the Visa Waiver Program can stay for 90 days in the U. S. This includes the number of days you have stayed in Canada too. Additionally, people with esta online visas cannot apply for the visa extension.
 They can go out and again enter the U. S. if they wish to stay more. However, this does not go well with Customs Border Protection as they may question on returning so early to U. S.
Now that you have all the information go ahead. Plan out an amazing trip to look forward to. And while you are enjoying the travel trip, do not forget to follow the hygiene and social distancing instructions.