Samsung is the quintessential maker of phablets, tablets and smartphones and Galaxy Note 4 is one of the most coveted devices. In this article I will tell you all about Note 4. Samsung's Note devices fell prey of mockery of rivals when they first came to the market as a mammoth screen seemed to be funny and useless. But then users started understanding that it feels great to have a pristine and clear screen with big screen. Hence, a big 5.7″ QUAD HD Super Amoled Display is definitely a plus point. The hue and resolution is more prominent as compared to its predecessors Note 3 and Note 2. Apart from display a large number of new features has been brought in Note 4.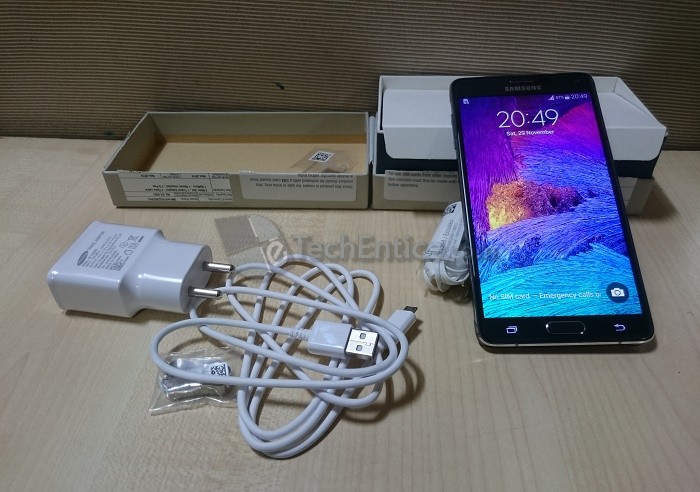 Design of Samsung Galaxy Note 4
The overall design of the outer cover has changed and the device looks different from the previous versions. its side are curvy like Note 2 and 3, but the edge is not smooth. It has earned a little height than before thus having a slightly different yet stylish look. Apart from this, the case is now metal body. In all the previous models, we have found plastic cases. Note 2 has the glossy plastic back cover and Note 3 has the matte plastic back cover, similar to that of S5. Samsung has kept the matte look of Note 3 for the superior grip but replaced the material with half polished metal frame. This means more reliable and sturdy. Galaxy Note 4 weighs 176 grams whereas Note 3 weighed 168g. This implies Note 4 is a tad bit heavier than Note 3.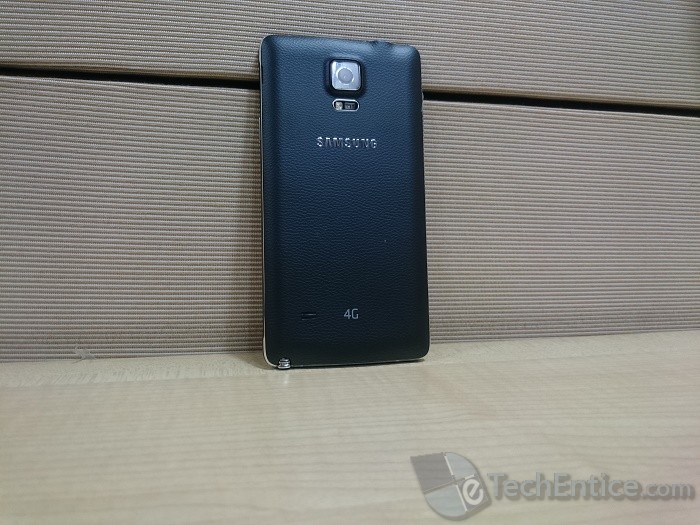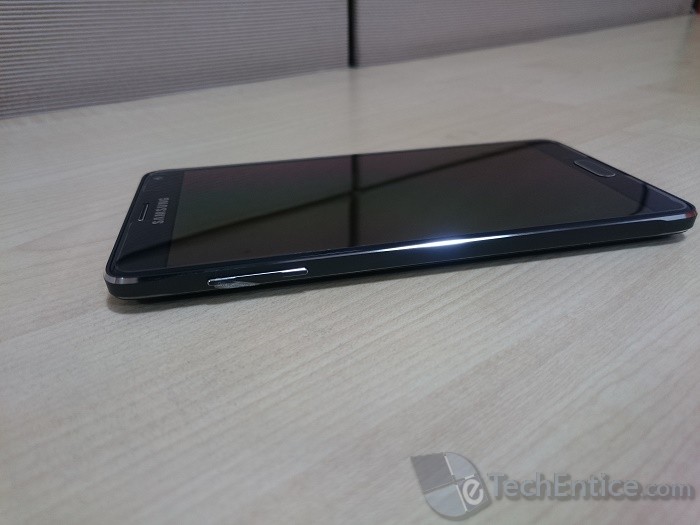 Screen of Note 4
Screen is a humongous 5.7 inch QUAD HD Super Amoled Display. Even though the screen size has not been enlarged any more, but the inbuilt specs have been revamped thus giving a more clear and vibrant colors with a resolution of 2560×1440 with 515 pixels per inch which is definitely a treat to eyes. Even some of the Samsung Smart TV models have resolution of 1080p, which means 1920×1080. Apart from this, color regulation in Galaxy Note 4 is possible for the Display menu. The three modes are respectively Adaptive, Photo, and Basic. So we can imagine how powerful the resolution is. The Corning Gorilla Glass 3 ensures enhanced durability.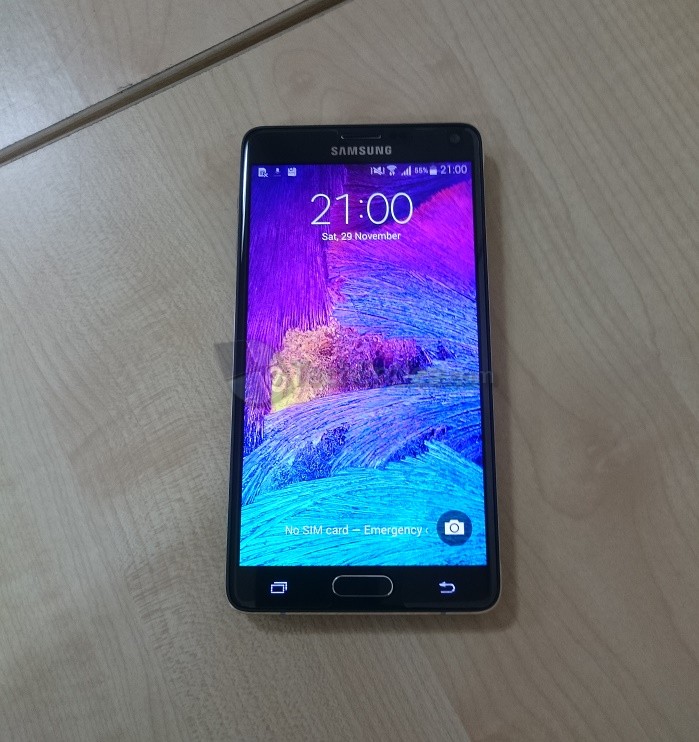 Internal Hardwares
Now coming to the internal hardwares. Note 4 is available in two versions in terms of processor- the Snapdragon 805 processor and the Exynos processor. The version with Snapdragon 805 is teamed up with Adreno 420 and the one with Exynos Processor has Mali T-760. We have reviewed here the one running the first processor, Snapdragon 805 Quad Core processor with processor speed of 2.7 GHz. The other version has a processor speed of 1.9 GHz. Storage capacity includes a large 3 GB RAM along with an in-built 32GB Internal memory which is expandable upto 128GB via Micro SD card.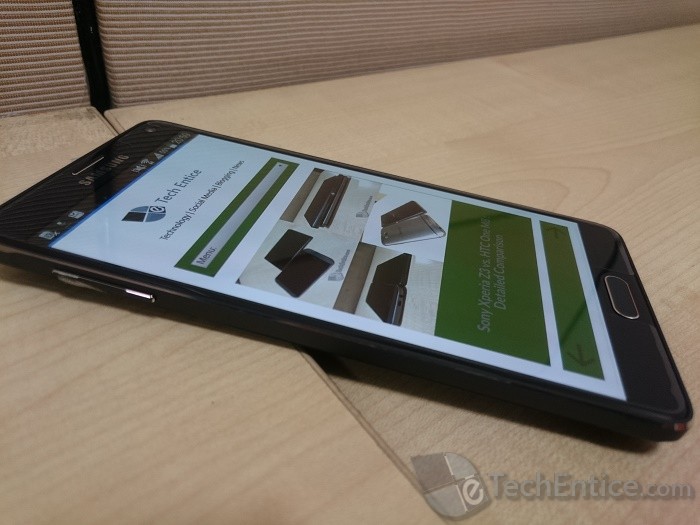 S Pen and other sensors
The S pen sensitivity has been increased two times which assures you giving a smoother experience. The 15g weighing light S Pen has specs of Hovering 15 mm and Pressure level 2,048. The S Pen can write flawlessly and perform more functions.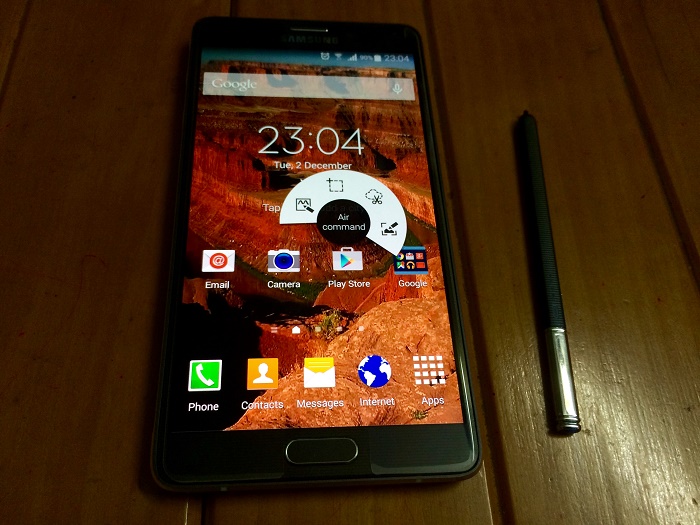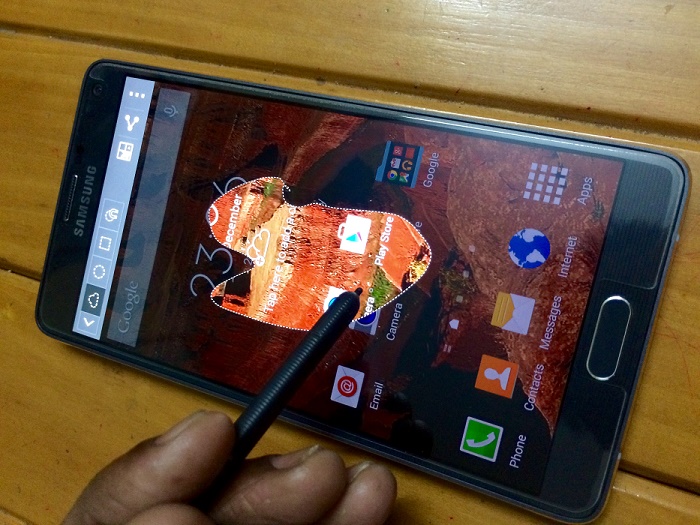 The device includes Gesture, Accelerometer, Geo-magnetic, Gyroscope, RGB ambient light, Proximity, Barometer, Hall Sensor, Finger Scanner, UV, HRM etc.
Battery capacity of Galaxy Note 4
Battery capacity is 3220 mAh which ensures Fast Charging. Note 3 had Li-Ion 3200 mAh battery. So battery is also ameliorated to some extent.
Camera of Note 4
The device comes up with a 16 MP with Smart OIS/ Fast AF, Live HDR(Rich Tone) and a 3.7MP selfie camera wih additional features like F1.9/ Selfie (90º), Wide mode for taking better selfies anyhow. At the back of the camera beside the LED flash, is present the UV sensor to measure the UV radiation of the Sun.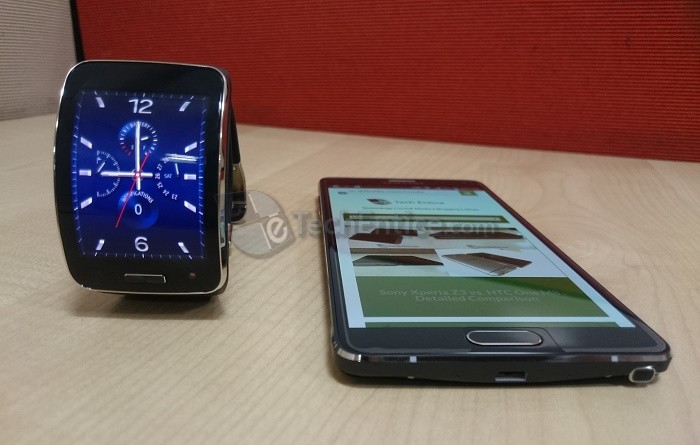 Software and OS of Galaxy Note 4
Note 4 will come with Android 4.4 Kitkat update from factory. The overall interface will be similar with some tweaks in the operation of the S Pen. For example, a long press of the S Pen on the screen will open an Air Command Menu from which you can select your desired option. After using Note 2, the smoothness of Note 4 S pen has mesmerized me beyond words. Plus the opening of S Notes is much more lucid and easy as compared to previous Notes. Another feature which is new in Galaxy Note 4 is the all enhanced multi window feature. You will be apply to open two windows like floating windows just like we find in Windows OS. This is immensely helpful as you can drag diagonally and place any window and move them accordingly. The flexibility is in such a level that it won't block any view of you apps, or mails or contact icons.
This is all about Samsung Galaxy Note 4. It is available in 4 beautiful colors Frosted white, Charcoal black, Bronze Gold, Blossom Pink.