Till date there have been numerous release in the field of smartwatch but hasn't been successful to that extent. The concept of making calls, assist you with various apps wasn't in place but it seems to be true now. Also owning a smartwatch means you had to keep it connected to phone all time, which in turn turns out to be a burden, but this concept is changing.
The smartphone tycoon, Samsung has launched it's sixth edition of smartwatch, Samsung Gear S. The noteworthy feature is that it has its own data service. In other words, it has its own SIM slot which means it is a standalone device capable of placing calls as well as data service can be used. Till date every smartwatch used to be connected to a phone via Bluetooth but Gear S has broken that myth. Though The Gear S will need to be paired with your smartphone to install/update new apps and update it's firmware (can be done using Samsung Kies too); you will require a Samsung Galaxy running Android 4.3 or higher. You can pair the watch with the phone over Bluetooth as well as over the internet, hence it's possible to use your Gear S (As a paired device to get your smartphone notifications) even if you are present at a separate geographical location from your phone.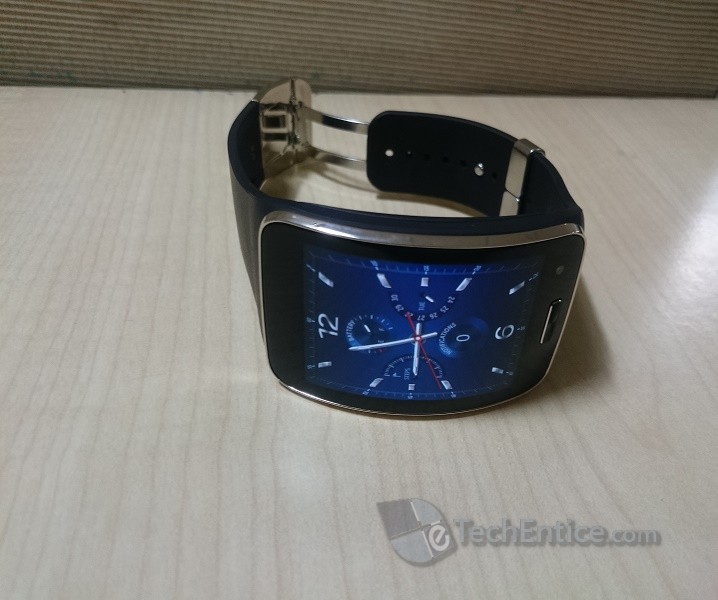 Specification
The Gear S has a 2-inch display overviews by a Super AMOLED 360 x 480 pixels display, capacitive touchscreen. It has color variation of around 16 million in number. The device has a dual core Snapdragon 400 processor clocked at 1GHz. Apart from that it has its own nano-SIM card slot which allows it to place calls and use data all by itself.
The Samsung Gear S supports both 2G as well as 3G (HSPA+) connectivity. Apart from these features, your arsenal in Gear S is restricted to 4GB onboard memory with the RAM memory fixed at 512MB only along with a 300mAH battery life.
Detailed specifications of Samsung Gear S
2G Network: GSM 850/ 900 / 1800 / 1900
3G Network: HSDPA 850/ 900 / 1800 / 1900
Dimensions: 58.1 x 39.9 x 12.5 mm (2.29 x 1.57 x 0.49 in)
Weight: 67g
Display: Super AMOLED capacitive touchscreen, 16M colors, 360 x 480 pixels, 2.0 inches (~300 ppi pixel density)
Multitouch: Yes
Loudspeaker: Yes
3.5mm jack: No
Memory Card slot: No
Internal: 4 GB, 512 MB RAM
Data: GPRS, Edge, 3G (HSPA+)
WLAN: Wi-Fi 802.11 b/g/n
Bluetooth: v4.1, A2DP
USB microUSB: v2.0
Camera: No
OS: Tizen-based wearable platform
CPU: Dual-core 1 GHz Snapdragon 400
Sensors: Accelerometer, gyro, proximity, compass, heart rate, barometer, UV light
Messaging: SMS(threaded view), MMS
Browser: HTML
Radio: No
GPS: Yes, with A-GPS, GLONASS
Colors: Black, White
Battery: Non-removable Li-Ion 300 mAh battery
Other Features:
– IP67 certified – dust and water resistant
– Water resistant up to 1 meter and 30 minutes
– S-Voice natural language commands and dictation
– MP3/M4A/AAC/WAV player
– Photo/video viewer
– Voice memo/dial/commands
Design
It looks like a curved smartphone moulded around a wristband with curved edges with a home button at the bottom of the watch. The device is a bit longer in length and somewhat like a smartphone in the portrait mode. The device weighs at around 66grams, hence it would not much of a load when you are wearing it on your wrist. The Gear S has been launched in mainly two colors- black and white.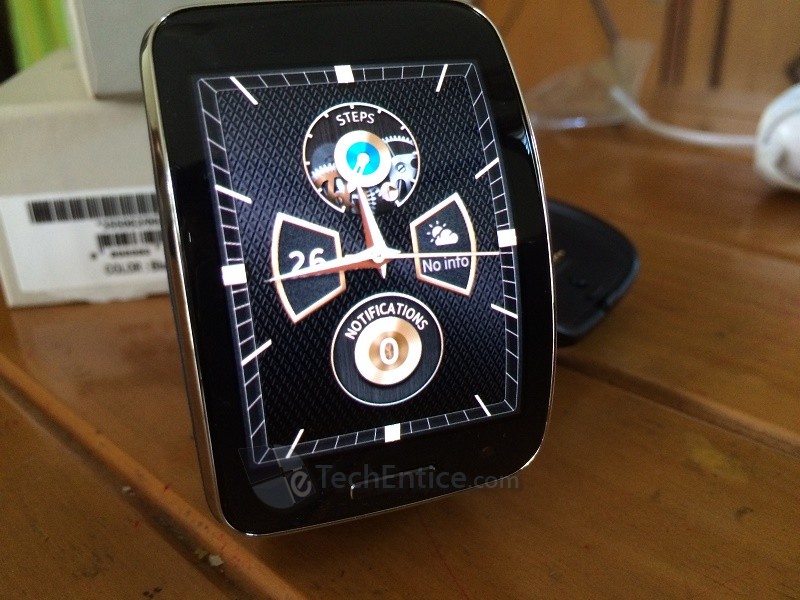 The huge curved display actually covered my wrist as shown in the picture. The chromed edges and the huge OLED display make it look all the more magnificent and these few features make it stand apart from the crowd.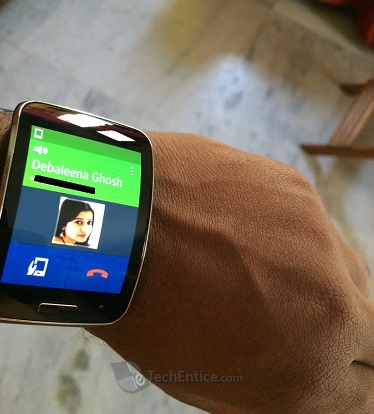 Display
The watch has a 2inch 480×360-pixel display with pixel density of 300 PPI with OLED screen which is quite sharp and colorful. It has a greater pixel count than previous Galaxy Gears. As always Samsung's displays have been really jaw-dropping and they have proved their point once more in Gear S. If you are in a closed environment, the device lights up the screen for the required notification as and when they appear. The vertical scrolling is really fun to do on the device because of the curved display. There is enough space for you to go for news feed reading and it is very much feasible. I actually tried accessing the news feed & was successful in my attempt to go through it. The reading experience was really good. Again if you are connected to your Galaxy Smartphone, you can easily send the news to your smartphone to read it in bigger screen.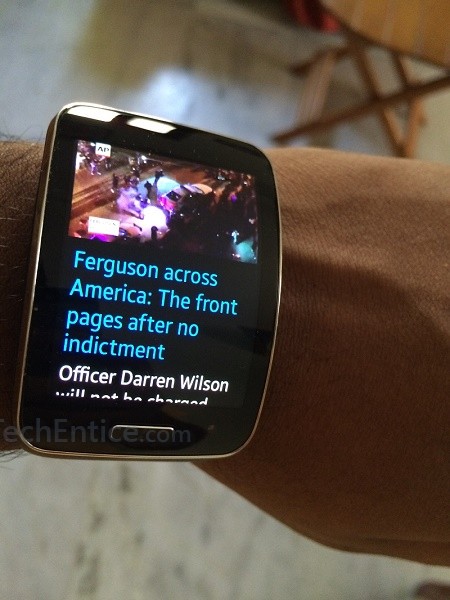 Hardware and Sensors
The watch is IP67-rated water resistant which means it can withstand a drizzle or severe rain but don't think of wearing it while swimming. It has its speakers & microphone and even embedded with sensors like accelerometer, gyroscope and compass, optical heart rate, ambient light for screen brightness, UV and barometer.
Talking about the sensors, the Gear S has the fitness tracking onboard that can track your steps all throughout the day, and also account for individual workouts. It has a heart rate monitor too. When you plug in Gear S, by turning on the S Gear application it will show you your current heart beat also which is quite a good feature.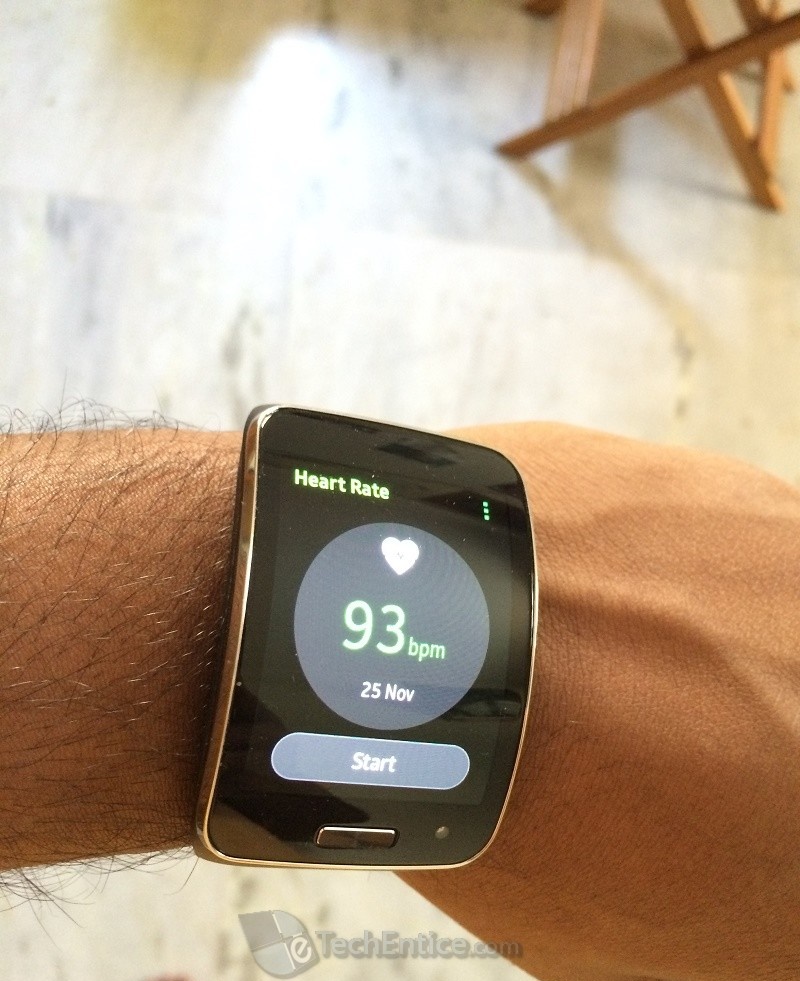 Another noteworthy feature is the UV indexing sensor. This sensor manages to capture the UV data from your current surrounding and gives you a record of the UV index pertaining to the surroundings. Hence you can use this feature while you are on the streets.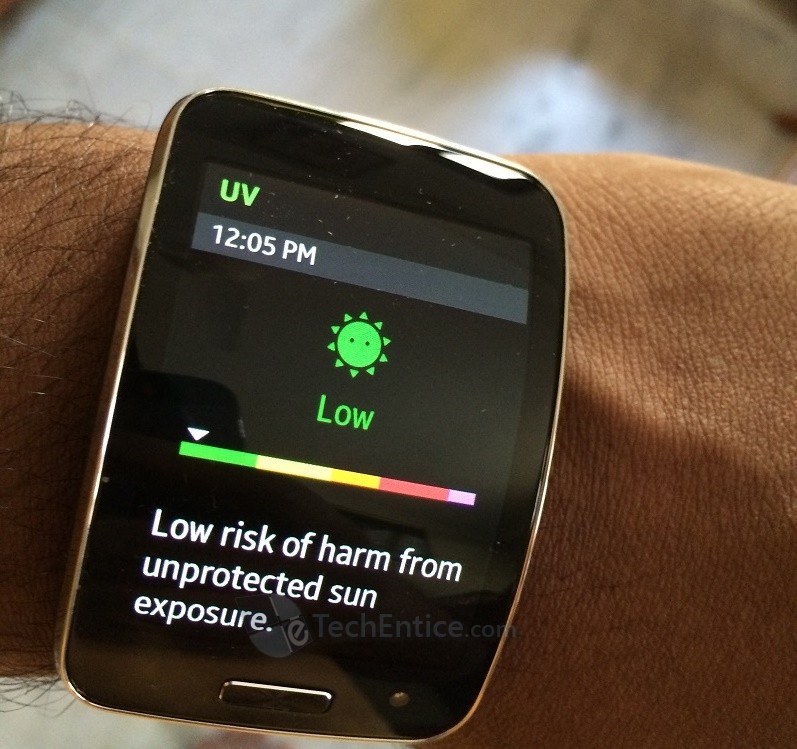 Connectivity
Talking about connectivity, the phone can be connected to internet via 3 ways :
1. Pair up with a Galaxy device with Android 4.3 and above
2. Connect the device to a near-by Wifi connection
3. Insert a micro-sim in its inbuilt slot with a 3G data plan for better speed.
The Gear S keyboard allows you to send text messages or even surf the web. You can also make use of voice control via S Voice which actually is pretty responsive as compared to previous gears. The problem being that typing becomes a challenge on such a small screen with the QWERTY keyboard.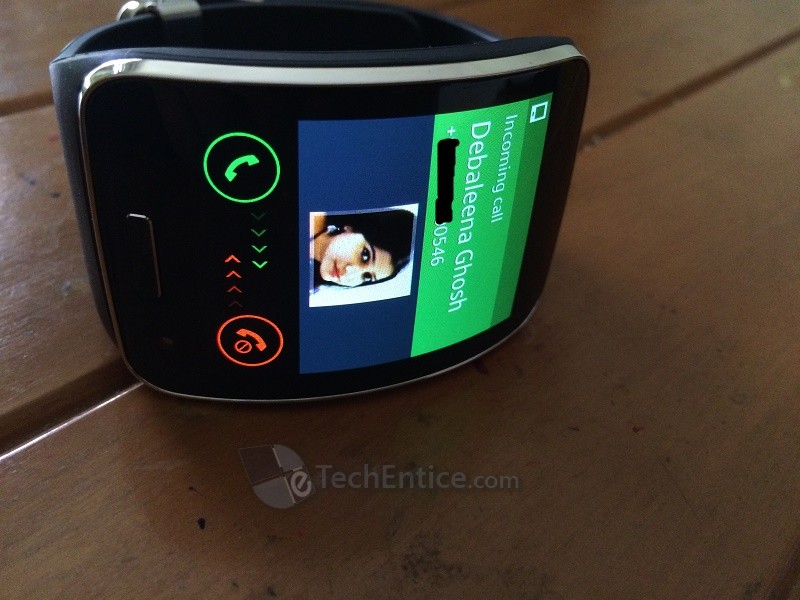 You can receive calls when the SIM card is in place and you can talk to the gear by talking to you wrist but that usually feels awkward. Since these days, you don't really find people talking back to their wrists.
OS + Software / Apps
Samsung has made use of its Tizen to bring the magic in place for the Gear S. After using it, I was literally in love with the device because of its great UI. Swipe your finger right, the leftmost home screen is your notification screen whereas a little swipe to the left will show you the application widgets like Music app, Heealth & Fitness apps etc. You can add other widgets of your choice. Swiping your finger up in main clock screen will show you the list of installed apps. Every app installed has been blessed with an enhanced look which makes it look all the more beautiful.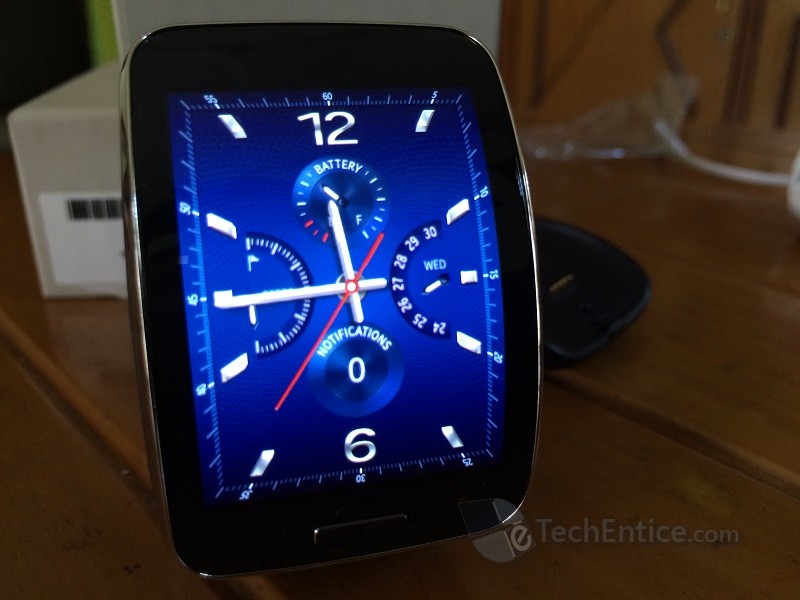 The Gear S comes with Phone, Messages, News Briefing, Music, S Voice, Gallery, Find My Device, Nokia Here apps. With its own GPS radio along with Nokia Here app it provides you real-time, turn-by-turn directions. It will indicate you by vibrating on your wrist when it's time to turn and all this can function at ease when your phone is having a merry time at your home. You can also download offline maps.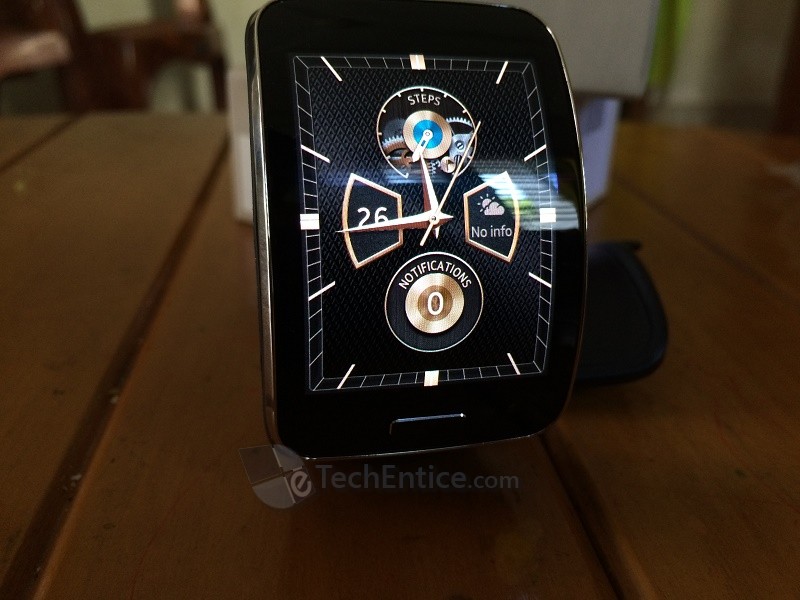 Battery Life
Talking about the battery life, it seems to be good. It should catch up with you for at least a day or two, depending on your usage. On pairing with my phone over Bluetooth, it had dropped 1 or 2 percentage points per hour. When paired over the Internet, it fell around 4 or 5 percent per hour. Samsung has thought over the point for charging and has adequately provided a Micro-USB wall charger that fits in to a dongle that keeps on charging the Gear S, and the dongle breaks off to turn out to be a 350mAh battery itself. The device comes with a charging module which allows you to charge up the device as shown.

The battery might also drain up depending upon the time you spend on the GPS module for instance using Nokia Here App , would use up the juice to greater extent. Hence you might have to think and utilize the device before randomly operating on it.
Cons
Some backdrops which might be noted are reminders can't be set, doesn't permit to compose mail in reply mode, too less choices of 3rd party apps (Even Android Wear does not have much apps). These might turn out to be some of the deal breaking points but if you are really in search of some thing that is real smart, Gear S is the one you should surely check for.
Pricing
The Gear S is now available in the US market but the price varies depending upon the carriers. For T-Mobile, the device is tagged at $349.92 and for Sprint as the carrier , it is tagged at $384. AT&T is providing the device in two ways: on-contract and off-cntract basis. It is $299 off-contract, or $199 on-contract, where you'll pay at $10 extra for a month to share your mobile calling and data. With Verizon, the Gear is tagged at $399, or $349 on a 2-year contract.
The main crux of the matter is here that you need to choose your carrier as well as plan wisely and go for the purchase.
Conclusion
Many people might not turn up buying this device but this time Samsung Gear S isn't telling you to buy from Gear stuffs, but instead purchase a device which is pretty independent. If you are really want to make a statement to others, we would say better go for this device since in months to come, it would outway other Android wear watches.