We live in a data-driven world, and the Big Data deluge has encouraged many companies to look at their data in many ways to extract the potential lying in their data warehouses. Big Data is practiced to make sense of an organization's rich data that surges a business on a daily basis. It is used to identify new and existing value sources, exploit future opportunities, and grow or optimize efficiently. Big Data assists better decision-making and strategic business moves. Dimensions of Big Data are explained with the help of a multi-V model. You can now learn programming languages like Big data, Java, Python Course etc. from Intellipaat online courses.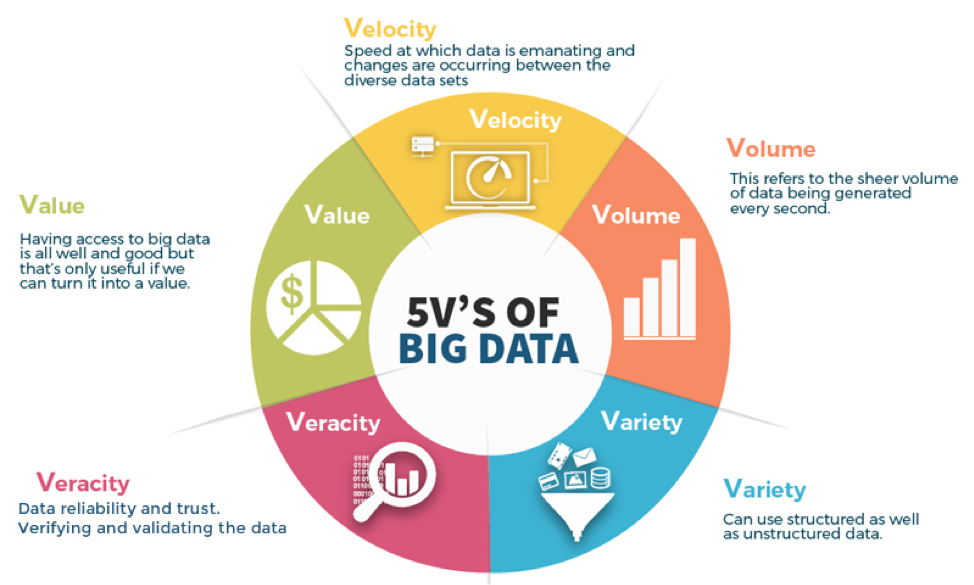 Intellipaat is one of the most renowned e-learning platforms. Intellipaat's Data Science Course andPython Certification course are among the most widespread ones. The Big Data and Data Science Master's Course is provided in collaboration with IBM.

Why Veracity Is the Most Important 'V' of Big Data?
Data is an enterprise's most valuable resource. While, enterprises focus mainly on the potential of data to derive insights, they tend to overlook the challenges caused by poor data governance. Business decision makers within an enterprise are the ones who need to manage data veracity. However, if business decision makers are unable to trust their data, how can stakeholders be sure that they are in good hands? If the data source itself is questionable, how can the subsequent insight be trusted? Hence, it is quite important for an organization to have strong policies for data governance.
Data plays a crucial role in decision-making and building strategy across various industries like retail, healthcare, manufacturing units, software companies, etc. However, the same data can be declared dead if it is not reliable or inaccurate. Invalid or inaccurate data cause significant problems like skewed insights and erroneous/poor decisions.
Let's see how inaccurate data affects the healthcare sector with the help of an example. Consider some incorrect data showing that a specific diagnosis will suite a specific set of symptoms from patients. Further, the doctors will go ahead to release the treatment based on this study only to realize later that it doesn't work or is dangerous to patients' health. Inaccurate data in medical or healthcare domain can prove to be detrimental.
Inaccurate data or manipulated data comes with the threat of compromised insights in any industry. This clearly indicates that data veracity is incredibly significant to get accurate insights which helps decision-making.
Ensuring Data Veracity
Organizations must be aware of the data residing on their premises. They should have a clear picture of where the data resides, where it's been, to where it moves, who all are using it, for what purposes it has been used, etc. Many organizations misunderstand data security for good data governance. However, both these terms are inter-linked. In order to beat the competition and the upcoming regulation, organizations need a strong plan for both. There are three primary parameters of data veracity:
Is the data accurate?
Is the data coming from reliable sources, and is it trusted?
Is it precise with respect to what it is reporting?
Having laid the foundation on the significance of data veracity, let's understand what is 'dirty data' and how to mitigate that. Inaccurate or erroneous data can be termed dirty data which provides wrong results. To ensure data veracity, you must first track your data flow in-and-out and check if it is accurate. This whole procedure is explained step-by-step.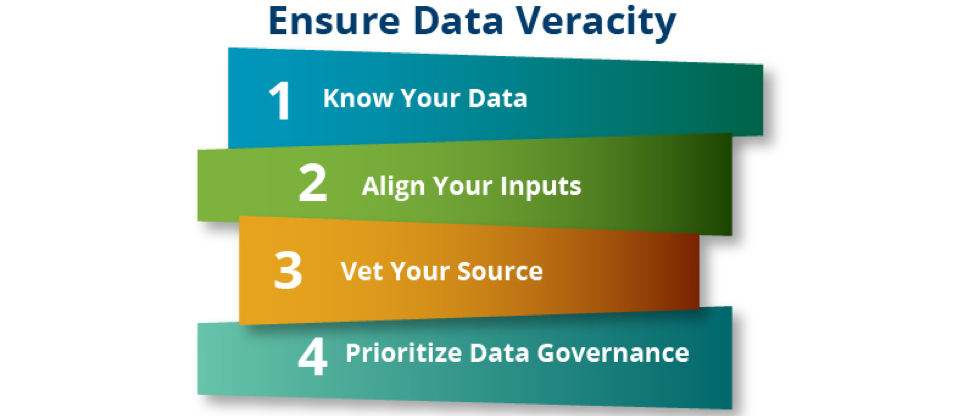 Know Your Data
As the title suggests, you must clearly know your data like where it is coming from, where it is going to travel, and how it is going to affect your business and strategies. Without the right direction, you can never determine the value of data and which part of it is pertinent to your which project. Therefore, it is always good to establish a data platform which provides complete details of your data movement.
Align Your Inputs
Most of the times, data is unstructured and is present in a variety of forms, most often it is found through individual fields or elements with different set of details. Further, this data is moved to a larger database, where advanced techniques are used to organize and analyze the data. Let's understand this with an example—consider the contact details form on the XYZ website, each field of which denotes one particular information from the customer. If a customer wrongly fills in one field, it essentially becomes useless, unless you swap it with the correct information.
Here, its all about aligning your data properly which can match with the fields and with the overall database. Your system should ensure that the right information is flowing in. This is not just one person's job. In order to establish a robust practice for data management, first the organization must make sure that the best practices for data integrity and security are widely embedded throughout the organization. It must become a core element of organizational culture. Every employee must be aware and take responsibility for the data quality.
Vet Your Source
In an organization, there will be plenty of sources from where the data is generated. It is not always from customers. It maybe internal or from IoT, connected devices, or other sources. Before extracting this data and merging it with the main database, it is mandatory to scrutinize this information and also the validity of its source.
Prioritize Data Governance
By now, we are slightly familiar with data governance in an enterprise. It mainly deals with ensuring data availability, accuracy, integrity, and security since this data pertains to an enterprise.
As we all know, data drives business. However, dirty data can sometimes hamper the business as well. Integrating data governance strategies and evaluating data veracity across organizations would propel growth in the right direction, especially, in large companies with multiple data sources and databases. Obviously, it is a complex task, but it emphasizes accurate insights, and it is directly proportionate to the business strategies and business evolution. Achieving data governance will authenticate any data being collected, stored, and handled by any source or database across an organization.
Today, the increasing importance of data veracity and quality has given birth to new roles such as chief data officer (CDO) and a dedicated team for data governance. Every company has started recognizing data veracity as an obligatory management task, and a data governance team is setup to check, validate, and maintain data quality and veracity. They also identify, respond, and mitigate all risks that are coming in terms of veracity.