With the overwhelming involvement of social media with our lives, media like photos, videos, audios, etc. have become an integral part of it. Social media are no more restricted as a medium for leisure and joy, but its utility is way beyond that. Now, social media is the biggest source of entertainment, income and finance. One of the most popular sources of income comes from YouTube, short video and movies launched in Facebook pages, YouTube, etc. So, the main catch is that, you must have a good video editor software, which will allow you to cut and trim your videos, and help you create a perfect resultant for your channel or page.
We have reviewed several video cutting and trimming applications in the past. In this article, we are reviewing the TunesKit Video Cutter for Windows. The main function of the application is to trim videos into smaller segments, join small pieces of videos and consolidate into a single video and so on. Let's have a look at the main features of the software.
The software is very easy to use. Just select your video file that you want to trim, and then select the part of the video that you want to cut. You have to select the start time and end time of the video file.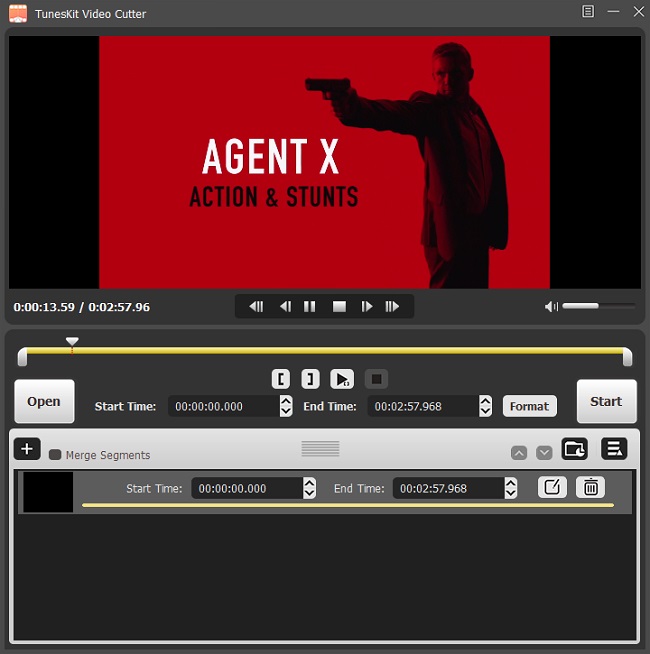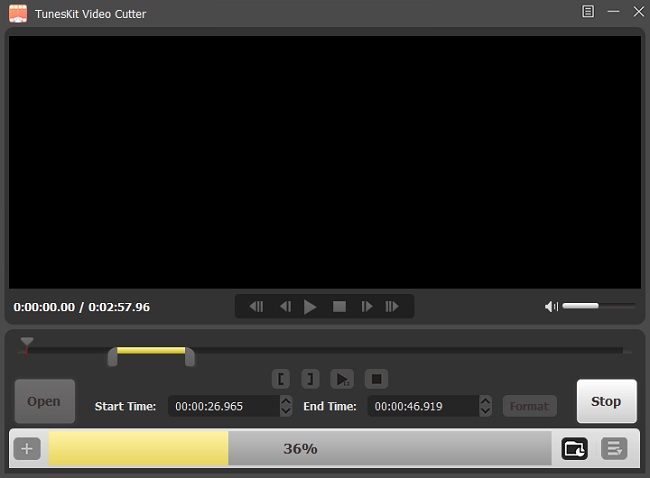 Now you can choose your desired output format for the selected video. The trimmed part of the video will be saved as the particular video format file.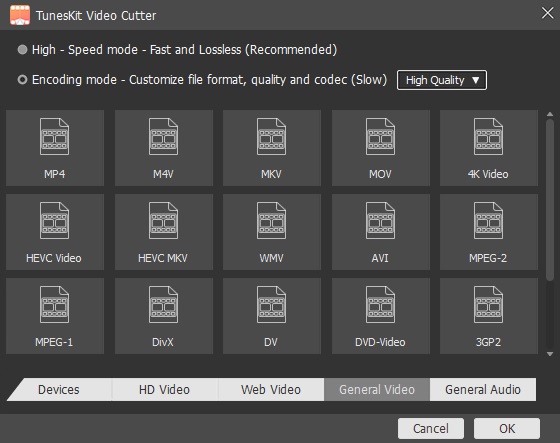 Salient Features Of TunesKit Video Cutter For Windows
1. TunesKit Video Cutter application for Windows operating system is a versatile video editing software that can split a long duration video into small segments. The conversion is not just limited to video formats but also applies to a plethora of other formats like MP4, MPEG, AVI, FLV, M4R, MP3, MKV, WMV, ASF, VRO, AAC, AC3, OGG, APE etc. Besides splitting videos, the application can join small video clips to form a single complete video.
2. Another intriguing feature is the lossless conversion or trimming. TunesKit is not the only trimming software available in the market, but it is definitely an elegant software that provides lossless editing. Many trimming software is capable of trimming videos but fails to maintain the integrity and quality of the result. The trimmed video gets attenuated and quality is lost in the process. But, with TunesKit, the quality is conserved, and the clipped segments have quality exactly the same as the source video.
3. The software facilitates a plethora of diverse effects like cropping, flipping, adjusting brightness, contrast and hue, etc. You can add watermarks, subtitles and many more factors to the videos.
4. You can extract audio tracks from a long video file. For example, you love a song from a big video file, you can extract just the song, that is, a particular audio part, flawlessly with the help of TunesKit Video Cutter. Other than this, you can extract multiple audio and video formats
5. The application is extremely fast, and works at an amazing speed compared to many of its competitors. The app works at 60x faster speed with real-time preview. The fast operation is aided by the state-of-the-art technology and advanced accelerators.
Pros
1. The software is so well crafted, that the list of Pros don't seem to end. The user interface is extremely user friendly and flexible. The menu and settings are designed in such a way, that, any novice user can use it without any guidance. The basic installation process is equally simple. There is a large preview screen, where you can watch the cutting and trimming process. This improves your precision of trimming.
2. The settings, format, start time, stop time and all other settings are vivid and reliable.
3. The application is super fast and works without any lag. The best thing about TunesKit Video Cutter is that, speed doesn't compromise with quality.
4. The application works with almost all devices and all platforms. The devices include iPhone X, iPhone 8, iPhone 8 Plus, iPhone 7, iPhone 7 Plus, iPhone 6 Plus, iPhone 6, iPhone 5S, iPhone 5C, iPhone 5, etc, new iPad, Apple TV, Apple TV 2, new Apple TV, Apple Generic, etc. It is compatible with Samsung devices like Galaxy S8, Galaxy S6, Galaxy S5, Galaxy S4, Galaxy S3, Galaxy S2, Galaxy Tab, Galaxy Note, Galaxy Nexus, Galaxy S, Galaxy A9, Galaxy A7, etc and devices from other manufacturers like Huawei, Game Consoles like Xbox One, Xbox 360, PS3, PS4, PSP, HTC devices, Xperia devices, etc.
Cons
There is no such negative aspect, that we can discuss about this software. It is an efficient and complete video cutter tool in all aspects. We highly recommend users to try TunesKit Video Cutter.