While writing an email to our professor or to our boss, we often fall short of words that are polite and sophisticated. If any senior person has kept our work pending, then we find it real difficult to ask him or her if he/she has done the job. So what to do? How much politeness is mandatory and desired? To deal with one of the most difficult constraints of email writing, FoxType has come up with an amazing solution.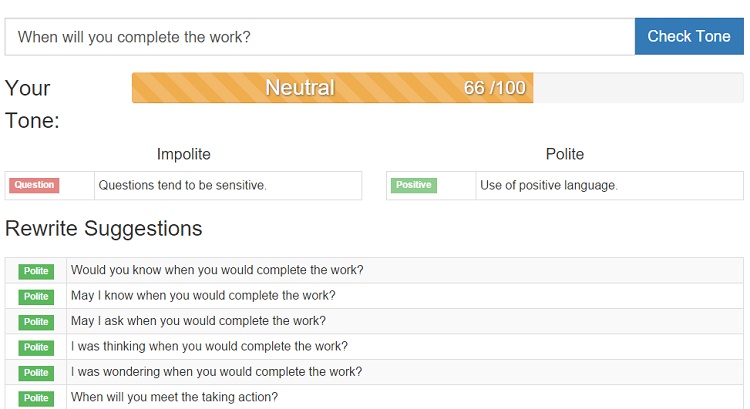 With FoxType, you can check the tone of your writing. For example if you want to ask someone "have you completed your work?", you can enter that text in the area provided and then click on Check Tone. FoxType will let you know if your sentence is polite, neutral or rude and will also present a parameter to measure the extent of politeness and rudeness.
Once you find that you sentence is not so polite to write it to your professor, you can check the meaningful and polite replacements of the sentence. A huge number of alternate options will be given which are plenty to help you find a suitable option. FoxType is an exceptionally useful tool and the best thing about this Web app is the easy to use interface and simple layout. You can try FoxType from the below link.
Source: FoxType