The Ubuntu forum is the latest one to suffer a data breach in its huge database from a hacker which took
place on around 20th July night. A forecast tells that around 1.82 millions accounts have been struck upon.
The site is still down under sustainment for security reasons.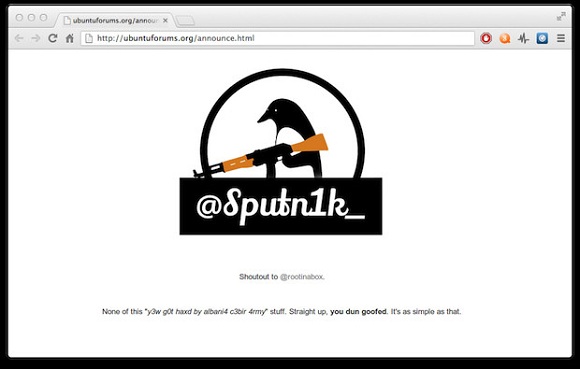 According to Placeholder page's report only the Ubuntu's forums were the ones which were affected by the hack.
The other services present in Ubuntu's site namely Ubuntu One, Launchpad and other Ubuntu services had eluded the breach.
The page's present scenario is that it asks the users who used the same password in other services such as email to
change the password as soon as possible for their security only. Although passwords in the site were not stored in plain text.
The users also admit that the hacker existing with a name of @Sputn1k_ has managed to take hold of every user's local
username, password and also their respective email ids from the Ubuntu database.
The twitter account of the community has only 5 tweets which are ostensibly misrelated to the hack with 83 followers
at the time when the tweet was posted. After this hack also many a users have visited the site's forum to flap down the hack.
Some users even preferred to reach out to the site and see what musical content was loaded into the page before it was
completely dismantled. The replaced page displayed a link to a "shortout" to a Twitter account named @rootinabox who seems to be established in Netherlands and he last tweeted around two weeks ago.
The Ubuntu forum uses vBulletin, which is a big web-based forum software.