Here is the hands on review on Ambrane P2000 power bank. The main attraction of this power bank is its humongous charging capacity of 2080 mAh. The capacity is enormous and Ambrane P2000 can charge up to 2 phones at a time. Now have a look at the main specifications of the power bank.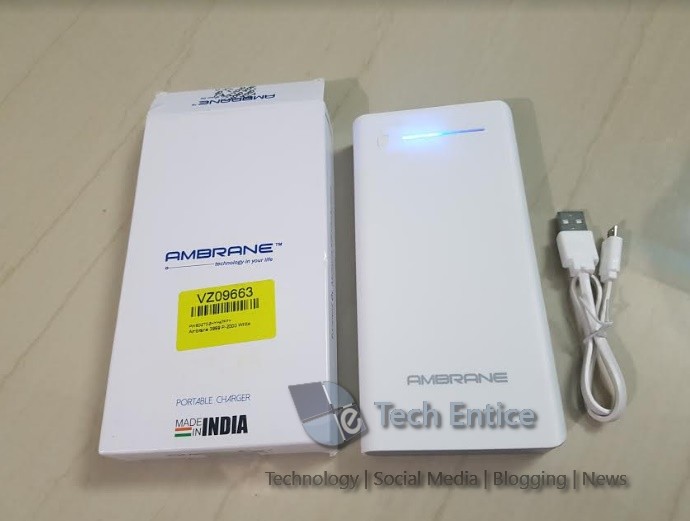 Input 5V/2.1 A
Output 5V/ 1A
Output 2: 5V/ 2.1A
Output 3: 5V/ 2.1A
Capacity: 20800 mAh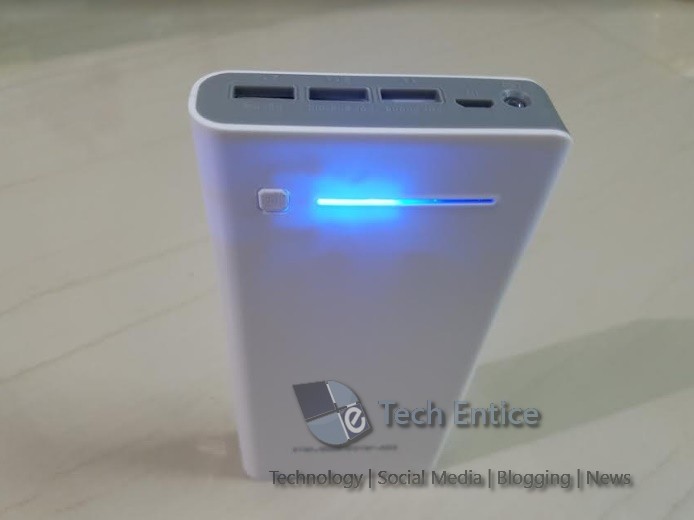 The box comes with the device, user manual and the charging port. The device is made up of plastic build and bears a rectangular shape. It looks good in terms of style but is a bit bulky. Considering the huge amount of charge capacity it has, the bulkiness is commendable. The device has a long LED panel in the front that displays the battery power level of the power bank. The battery level is displayed only when the button beside the LED panel is pressed once. The upper part of Ambrane P2000 has an LED that can work as a Flashlight, one input port for charging the power Bank and three output ports. The three output ports have different functionalities. The 5V / 2.1 A ports are for Android devices and iPhones while the 5V / 1 A is for other old models of phones. You can check the phone charging specs in order to connect to the correct charging ports. The power bank output ports have Android, Phones and iPhones written on them in order to make port selection easier for you.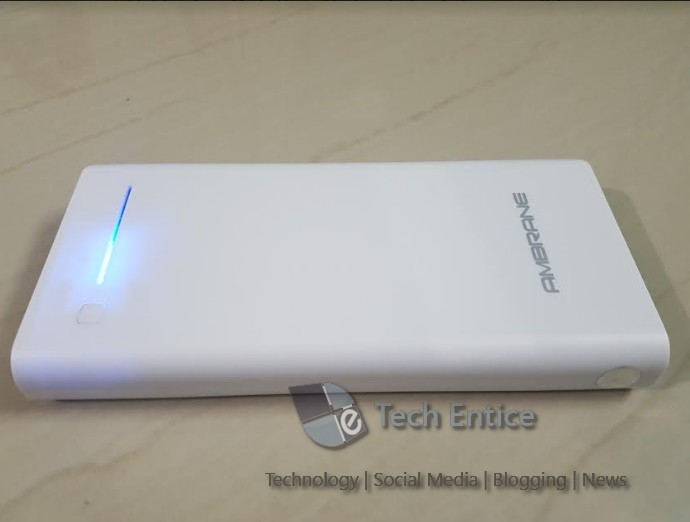 Now when you connect your phone to a port, you have to press the button beside the battery power level indicator LED panel. He charging indication will appear on your phone as well. Of you long press the button, the powerful LED turns on and you can use it as Flashlight. Now pressing the button again turns off the LED and stops the charging as well.
The process of using the device is very simple and user friendly. There is no such complexity that any user can find it difficult. Other than the bulky weight, there is not a single negative issue that we have faced with the power bank. The iOS and Android ports are fast chargers and can charge your phone super fast. We shall recommend you to purchase the power bank if you are out of home most of the time and have more than 2 smartphones.