Hoverwatch Cell Phone Tracker is a desktop application which records SMS, call history and audio, camera, locations, WhatsApp, Facebook, internet activity, calendar, contacts etc. If you want to monitor the phone activities of employees working under you in order to reduce distraction in work and increase productivity, you can use this software in order to keep track of the phone calls, SMS, chats they are exchanging. Similarly, nowadays, teens use smartphones and a parent needs to track their phones so that they can see what and with whom are their children interacting.
Salient Features of the trackers are as follows:
I. Invisibility: The app remains invisible from the computers where they have been installed. Even if your children are well aware of the different functionalities of your phone, they won't be able to find out that they are being tracked.
II. SMS and Calls: The SMS and call tracker enable you to keep a record of all incoming and outgoing calls. Moreover, you can check the SMS and MMS that are being received or being sent from the device. The app also allows you to view photos and images from your account.
III. Location Tracking: The app can track where the target device is right now.
IV. Whatsapp and Facebook Tracking: The app can track WhatsApp and Facebook activities, which are the most common activites among people.
You can access all Whatsapp and Facebook messages on another Android phone. The Android phone-tracking app gives access to outgoing and incoming messages. Better still, you can copy and save all files including audio, videos, and photos.
V. Front Camera photos
The tracking app has an automatic unique front camera feature. It takes a photo each time the screen of the Android phone unlocks. You are able to see a photo of the phone user.
VI. Sim Card Replacement:
The application is completely indifferent to SIM cards. So changing SIM card, or not usying any SIM card will not affect the tracking mechanism. But, whenever there is sim replacement, the software will notify you by SMS.
VII. Sim Tracker- Home:
Tracking your child's even when you are out of home is more than simple provided you have Wi-Fi connection. The phone-tracking app has no barrier in terms of distance.
VIII. Sim Tracker – Business: If you are thinking that employees of your organization are online during the working hours, thus hampering the productivity of your company, use the Hoverwatch SMS tracking app to check their online activities. So you won't need a supervisor to check these activities. The App will be more than sufficient.
The overall procedure involves three steps:
1. Sign up with an email account.
2. Download and install Cell Phone Tracker in accordance with your device requirements.
3. Monitor all data from the phone with call, SMS, GPS and other features.
a. Now, as mentioned earlier, the first step is to sign up to Hoverwatch Cell Phone Tracker with an existing email account. Give any password and click on Sign up to create the account.
b. Next, you have to download the installer corresponding to the device you wish to monitor. Then follow "How to Install" instructions. Physical access to the device is required for this purpose. There is one thing you must remember. Click "Download" if you're viewing this page from the device you wish to monitor. If you're going to monitor a different device, then write down the short link and open it on the target device. So, download the software in the device that you want to monitor. Click on the Installation guide in order to get a clear idea of installing the application on your device. For example, if you want to track a Windows PC, then download the .exe file corresponding to Windows PC and then check the Installation guide.
c. Choose the correct option. If you want to monitor your child's device, then check the box beside My kid's comouter. if you want to control the actions of your employees, click on My employee's computer and so on.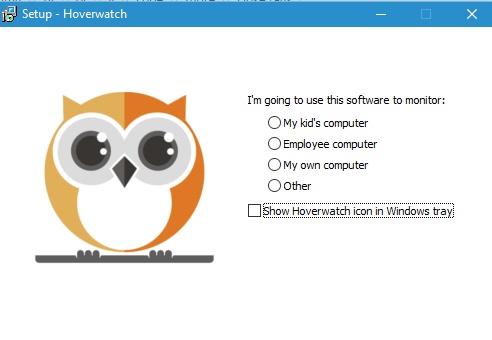 d. Next, check the option of accepting their terms and conditions. Click Next.
e. Now that Hoverwatch Phone Tracker is installed in the device, you can track the activities of the device where the app has been downloaded.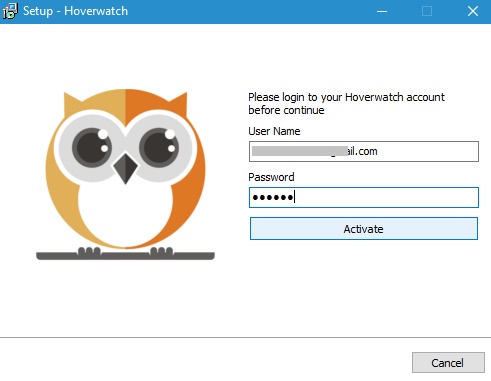 f. Whenever you want to check the computer, log on to your Hoverwatch account. Click on Update everytime you want to knwo the latest update. The results will look something like this.

That's all!
The app is smooth, easy to use, efficient and its multi-faceted features make it a highly recommended free phone spy application.