You may no more require to wear a hefty smartwatch to keep track of you heart rate and other physiological parameters. Scientists are working on a project that manufactures a super fine optical fibers that can be bend to be woven into apparels. Since the fibers is flexible enough to be created in the texture of clothing, hence sensors can be made anywhere on the fabric where the fabric can tough the bare skin. This is the key technique. The idea of making such an embroidery arises from the fact that smartwatches pose risk on the skin of the host. Prolonged pressure on the skin, heating of the smartwatches and the subsequent effect can give rise to skin rashes, allergy, even skin cancer. But a sensor woven into a cloth is fine and requires minimal touch with the skin. It doesn't stick to your skin. You can make the contact happen whenever you want to use the sensor to check your heart rate.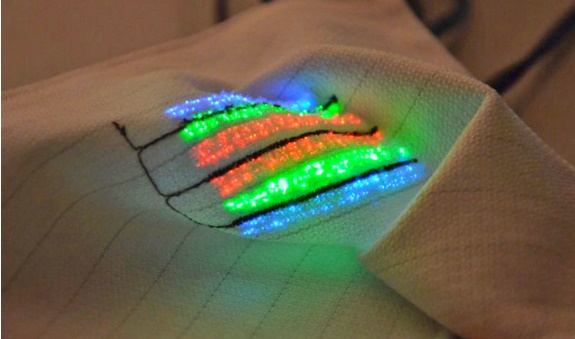 Now let's delve a bit deeper into this new technology. In the study published by the Journal of the Royal Society Interface, the fiber is crafted by melting and spinning two polymers. One of the two polymer transmits the light-based data and the other serves as a coating. The task is definitely an easy one as it may seem so. Scientists and researchers involved in this project are applying this fabric in hospitals. you can't usually melt and spin optical fibers, and this technique allows for much higher production volumes.
Patients will also get largely benefited from the technology. Many patients develop skin sores due to prolonged contact with sensors tightly clamped to their fingers or arms. The new fabric will minimize this risk. could minimize the chances that patients get further illnesses. However, the researchers hope to expand their flexible fiber tech to track oxygen, pressure and other crucial data. And it's reasonable to expect that this technology will eventually go beyond the medical field. Don't be surprised if you one day buy fitness apparel that tracks your stats without any obvious signs that there's technology inside.
Here's the Abstract:
Knowledge of an individual's skin condition is important for pressure ulcer prevention. Detecting early changes in skin through perfusion, oxygen saturation values, and pressure on tissue and subsequent therapeutic intervention could increase patients' quality of life drastically. However, most existing sensing options create additional risk of ulcer development due to further pressure on and chafing of the skin. Here, as a first component, we present a flexible, photonic textile-based sensor for the continuous monitoring of the heartbeat and blood flow. Polymer optical fibres (POFs) are melt-spun continuously and characterized optically and mechanically before being embroidered. The resulting sensor shows flexibility when embroidered into a moisture-wicking fabric, and withstands disinfection with hospital-type laundry cycles. Additionally, the new sensor textile shows a lower static coefficient of friction (COF) than conventionally used bedsheets in both dry and sweaty conditions versus a skin model. Finally, we demonstrate the functionality of our sensor by measuring the heartbeat at the forehead in reflection mode and comparing it with commercial finger photoplethysmography for several subjects. Our results will allow the development of flexible, individualized, and fully textile-integrated wearable sensors for sensitive skin conditions and general long-term monitoring of patients with risk for pressure ulcer.