An electric toothbrush makes rapid automatic bristle motions, where the brush head alternates clockwise and counterclockwise rotation in order to clean teeth. Motions at sonic speeds or below are made by a motor. An electric toothbrush is easier to brush your teeth for longer periods of time than a regular toothbrush. It can easily reach hard-to-reach spots. It helps to reduce cavities, gum disease, gum recession, gingival inflammation and other oral health issues.
Colgate E1 Electric Smart Toothbrush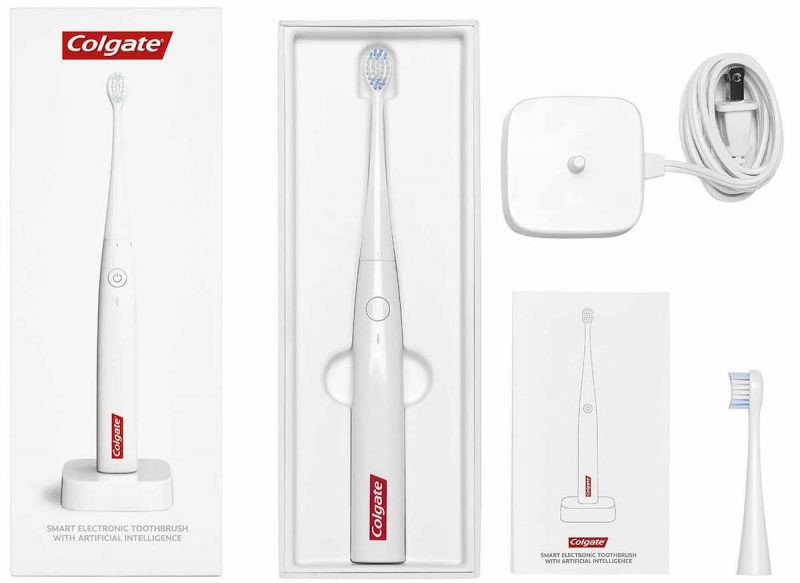 Colgate E1 electric toothbrush is one of the best electric toothbrushes among several toothbrushes with Bluetooth facility and app integration. The brush is comfortable to hold for its sleek design.
The Colgate app interface is amazingly simple and understandable. It will show record of duration, frequency and area covered by your brush when you are brushing on the screen in a very simple way.
Colgate E1 electric toothbrush and connecting app are compatible with iPhone, iPad, and iPod touch running iOS 10.0 and watch OS 6.0 or late, as well as most of the Android devices running Android 6.0 and up.
Battery of the toothbrush is rechargeable, and you have to charge it once in a week.
Philips Sonicare Diamond clean Toothbrush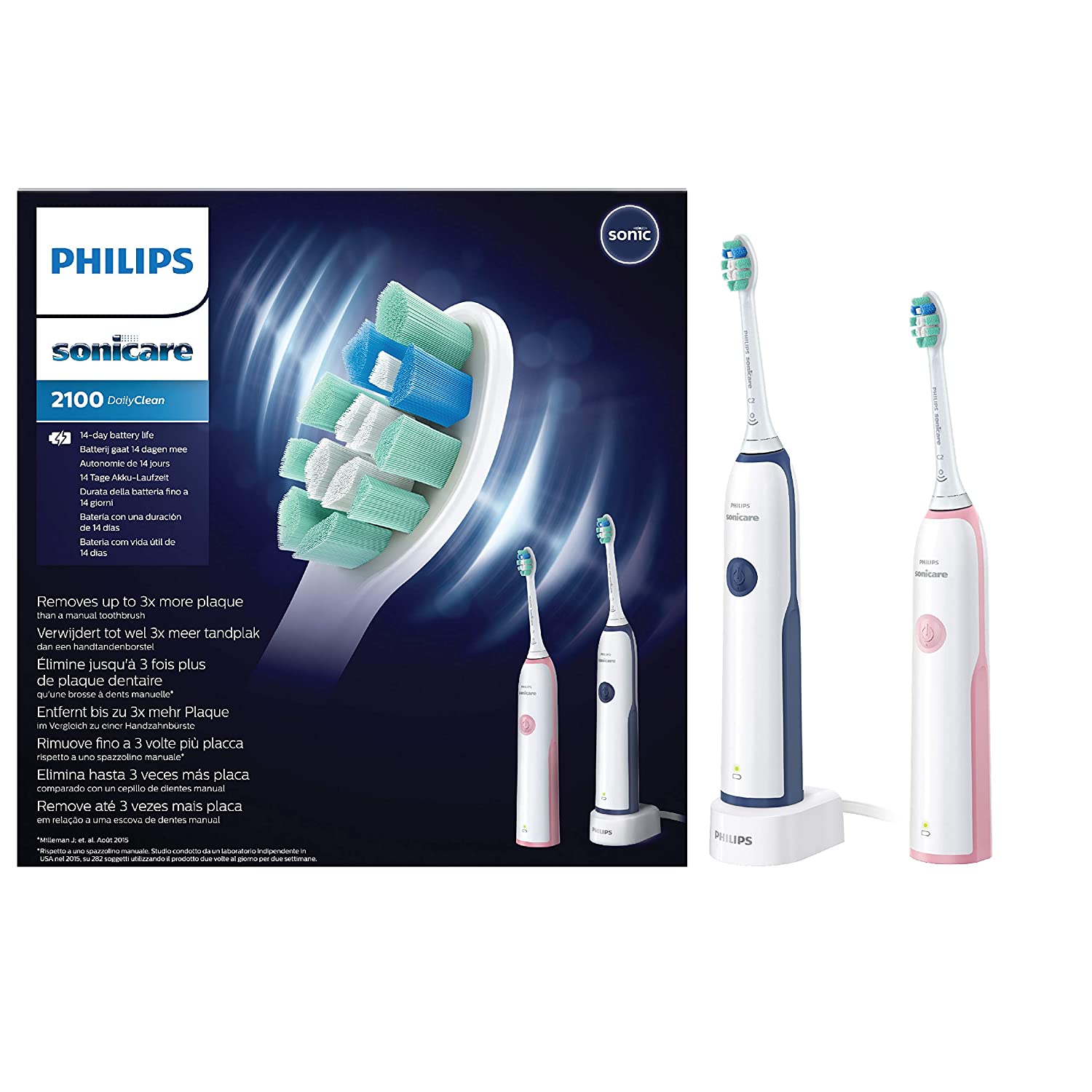 This is a premium quality toothbrush. This brush is very light weight. It offers five modes : Clean, Deep clean, White, Gum care, Sensitive. The modes can be changed easily by pressing a button. Spin rate is almost 30,000 rpm.
The brush has preset option so that you can brush with perfect time recommended by your dentist. For 2 minutes perfect brushing it beeps a sound in 30seconds duration.
Rechargeable battery life span is almost 3 weeks. It charges through USB charger.
Philips Sonicare App supports every smartphone that runs on Android 6.0 and higher and every iPhone that runs on iOS 11.0 and higher.
Oral-B Genius Pro 8000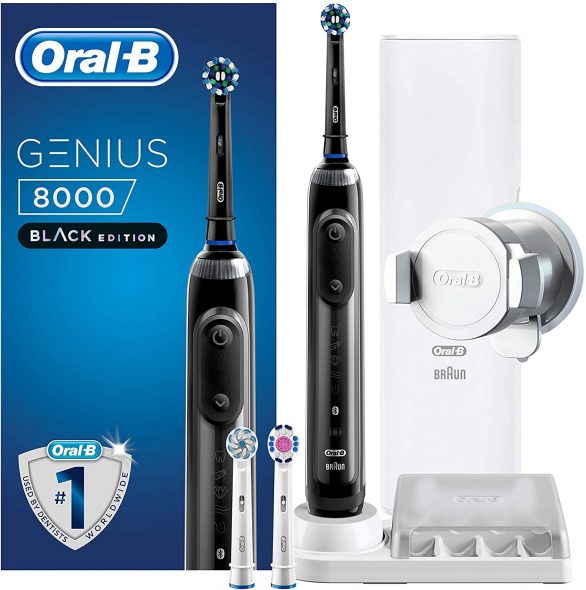 This toothbrush is specially designed for anti-cavity. You can connect it with your smartphone through Bluetooth. You would get notification if you missed any area of your mouth for perfect brushing.
The brush has 6 modes: Daily clean, Whitening, Tongue clean, Gum care, Sensitive and pro clean. It includes pressure technology that slow down brush head and notify you to prevent gum damage. It offers 16-degree angle for cleaning teeth deeply.
Rechargeable battery life is almost 12 days. The toothbrush and smartphone can be charged with same outlet.
Oral-B Genius Pro 8000 is compatible with Android OS 7.1 and above and iOS 10.0 and above are recommended for best results.
Oral-B 7000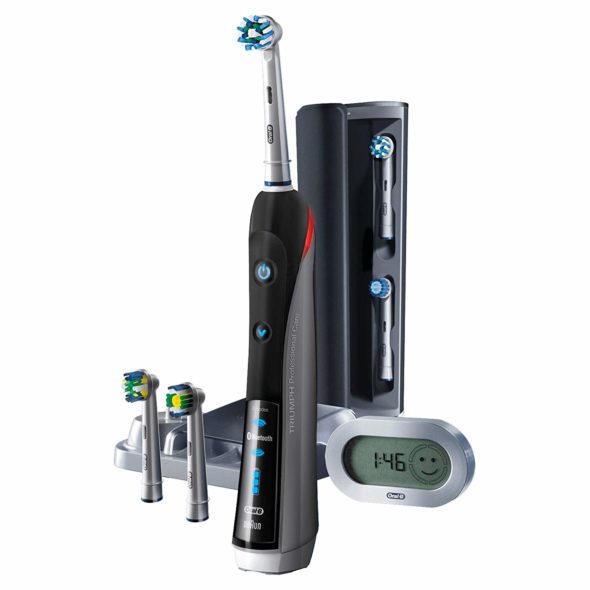 Oral-B 7000 is a super specialist toothbrush. It includes internet and the app can track brushing habit over time. The app sends motivational tips, notification when brushing hard, news and weather information. The brush will connect through Bluetooth 4.0 with your device and can entertain you with news update, calendar appointments, quotes and pretty pictures, as well as on-device photos and videos at the two-minutes brushing time. It has 3D cleaning power with 16-degree angle brush head for deep cleaning.
It has six modes: Daily, Whitening, Sensitive, Deep, Tongue, Massage.
The rechargeable battery lasts up to 10 days.
Oral-B 7000 is compatible with both Android and iOS.
Waterpik Sonic Fusion Electric Toothbrush & Water Flosser Combo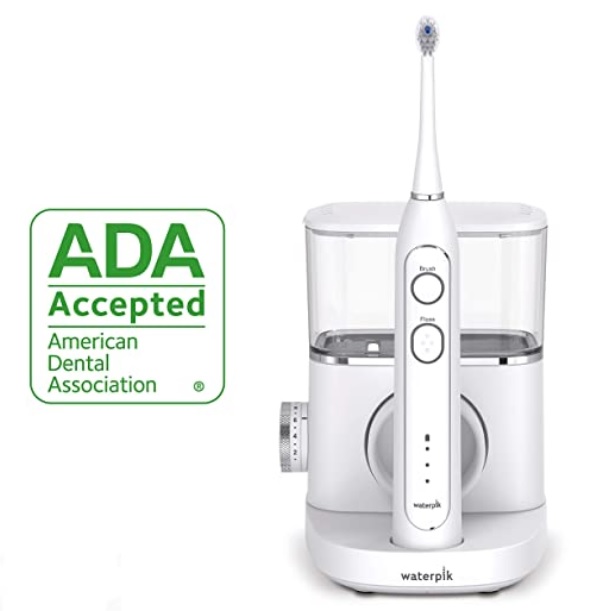 The toothbrush is very fast to clean your teeth for its water flossing device that can reach between your teeth and gum line and finish with excellent brushing. The kit includes removable water reservoir and water flossing pressure control regulator.
It has five different tips that cater for different purpose. The system has refillable reservoir stores for enough water for 90 seconds straight and comes with two classic jet tips, one plaque seeker tip, one orthodontic tip, and one pic pocket tip.
The toothbrush includes 2 minutes timer and creates a short pause after every 30 seconds to change the cleaning area.
Battery life of the brush is almost one week. The combo kit includes 4 different heads so that you can alternate them.
Foreo Issa 2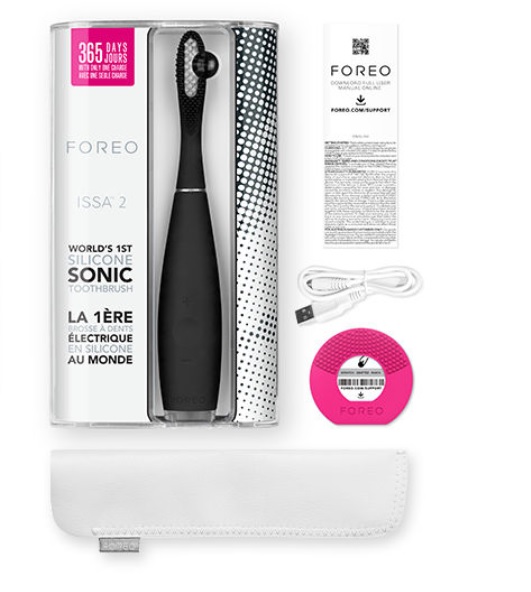 This toothbrush is special for its design and material. Silicon bristle of the toothbrush is softer on your gum and mouth than plastic material. The brush head is hygienic. It massages your gum and protect caramel of your teeth. Only a push button is on the toothbrush to on it and design of the brush is like a manual brush.
This toothbrush is created by Swedish skincare brand Foreo. The toothbrush is available in attractive colors: cobalt blue, black, mint and lavender.
The brush can be charged with included USB cord. With each 1-hour charge battery lasts up to 265 days.
Oral-B Kids Electric Toothbrush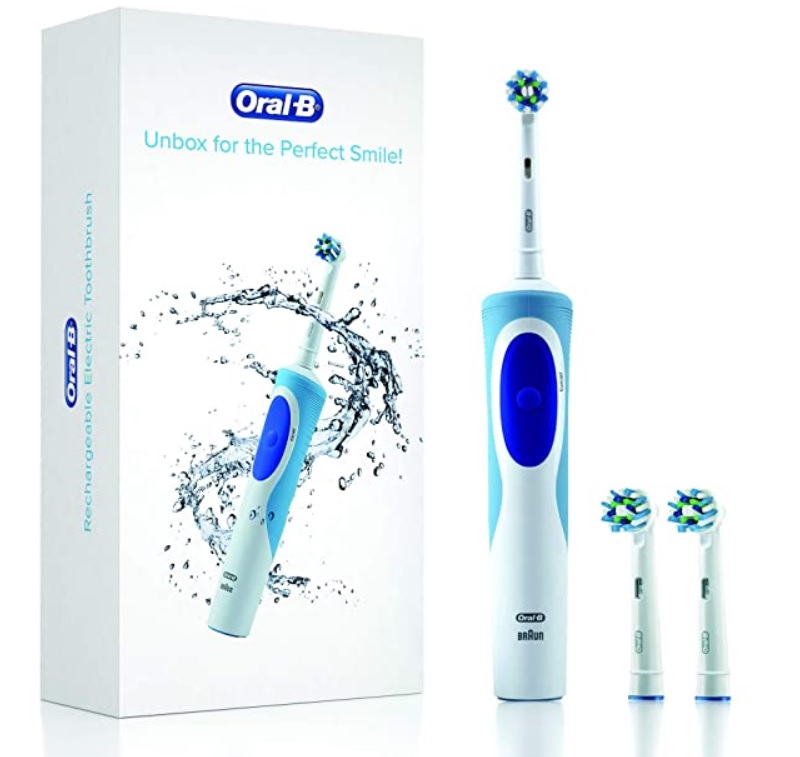 Oral-B Kids Electric Toothbrush is for 2 years up kids. This brush specially designed with soft head and larger grip. Head of the brush covers each tooth of kid and bristle lasts for at least 3 months. As kids teeth is very sensitive the toothbrush vibrates very gently.
Disney Magic Timer app is synchronized with Oral-B. This app is compatible in both Android and iOS.
When you are going to buy electric toothbrush look after some basic requirements like Design, Battery life and Connectivity.