The rising prevalence of Big Data and the need to process larger and larger volumes of information poses challenges to business players of all sizes in terms of making efficient decisions. Modern BI tools are aimed to address the indicated challenges without massive IT involvement.
BI tools are software solutions that serve to collect, process, analyze, and visualize big volumes of data in order to work out valuable business insights, develop interactive reports, and streamline the decision-making processes. By monitoring and analyzing the existing data, these tools can forecast future business scenarios, identify trends, and ultimately enhance profitability.
The Advantages of BI Tools
Whether your business is large or small, the BI tools can likewise bring fruits. Their most valuable favors are, as follows:
BI tools collect all relevant data. Companies often have to deal with data from various portals, such as databases, CRMs, ERPs, and more. Managing all these sources is necessary to develop an in-depth understanding of the gathered information. Modern data connectors provide the required level of data intelligence by centralizing the sources and giving you a unified point of view on your business processes.
BI tools offer self-service analytics opportunities. Every employee becomes equipped with business intelligence software allowing them to explore information on their own, thereby releasing the burden on the IT department.
Predictive analytics becomes possible. Forecast engines enable users to develop insights for future business scenarios. 
Business costs go down. BI platforms enhance planning, analysis, and reporting processes. Over 50% of BI tools users claim that these opportunities helped them reduce costs and increase revenues.
BI tools supersede manual tasks. Forget the endless arrays of rows and columns – advanced software can automate the reporting processes and turn the presentation development into a simple interactive undertaking. 
The Top BI Tools for Your Business
To help you make your way in the complicated world of modern software, we composed a list of efficient and intuitive BI tools that can promptly boost your business operations.
Datapine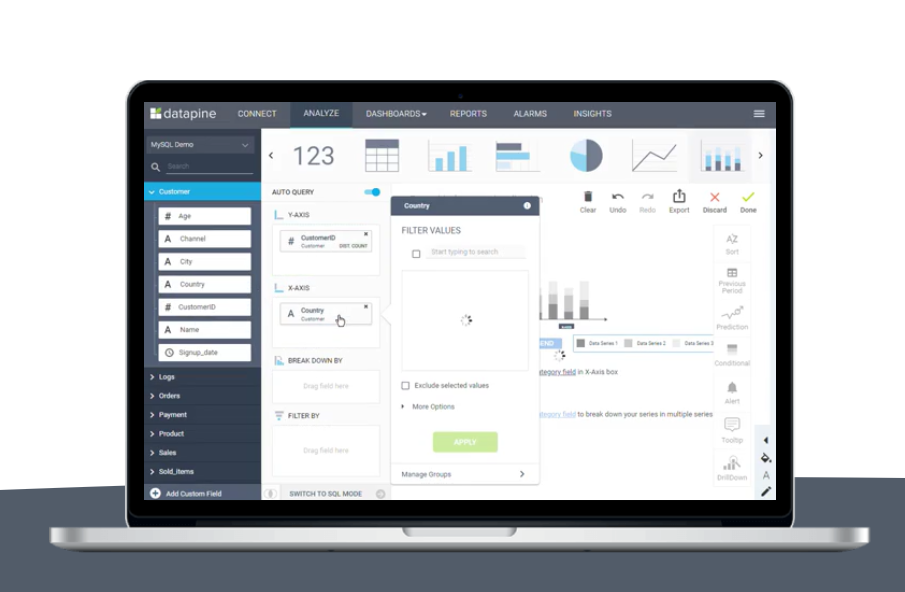 Datapine allows you to unify data from different sources and process it with breakthrough analytics features including predictive. The tool enables you to create business dashboards, standard or tailored reports, and include intelligent notifications of anomalies or targets.
Main upsides:
Intuitive interface;
Convenient predictive analytics;
Abundant interactive dashboard features;
Rich reporting options;
AI-based insights and alarms.
SAS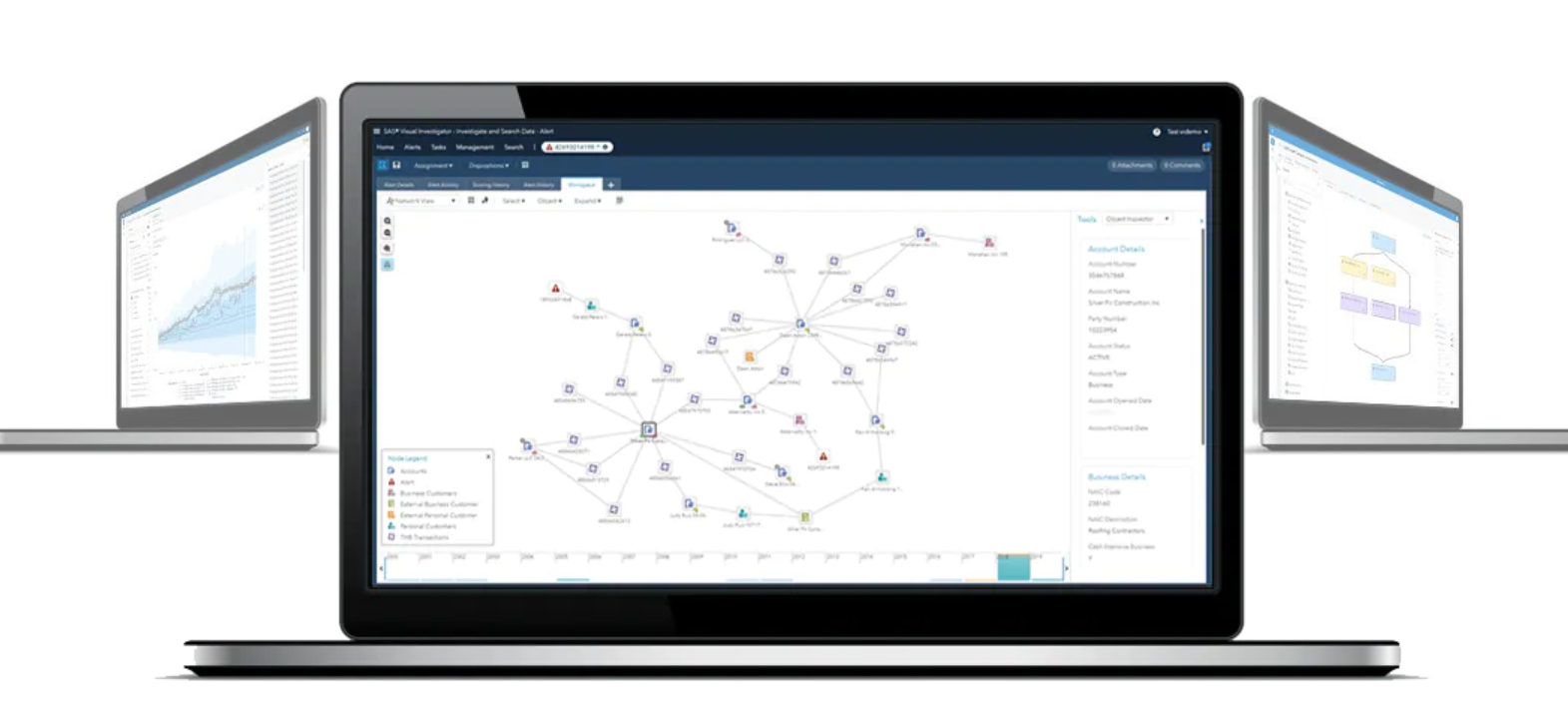 The solution offers a comprehensive line of products and technologies for various experts including data engineers, optimization modelers, forecasting analysts, econometricians, and more.
Main upsides:
Data exploration is based on machine learning;
Text analytics and location analytics capabilities;
Accessibility of reports and dashboards across devices;
Integration with various applications.
Domo
Img Source https://www.domo.com/ (first screen)
A cloud-based tool, Domo comprises multiple systems that allow applying the tool efficiently across industries. 
Main upsides:
Pre-built cloud connectors;
Easy, drag-and-drop data transformation tools;
The application of AI technologies;
Automatically developed visualizations;
The availability of pre-built apps, connector APIs, and dashboards.
Metric Insights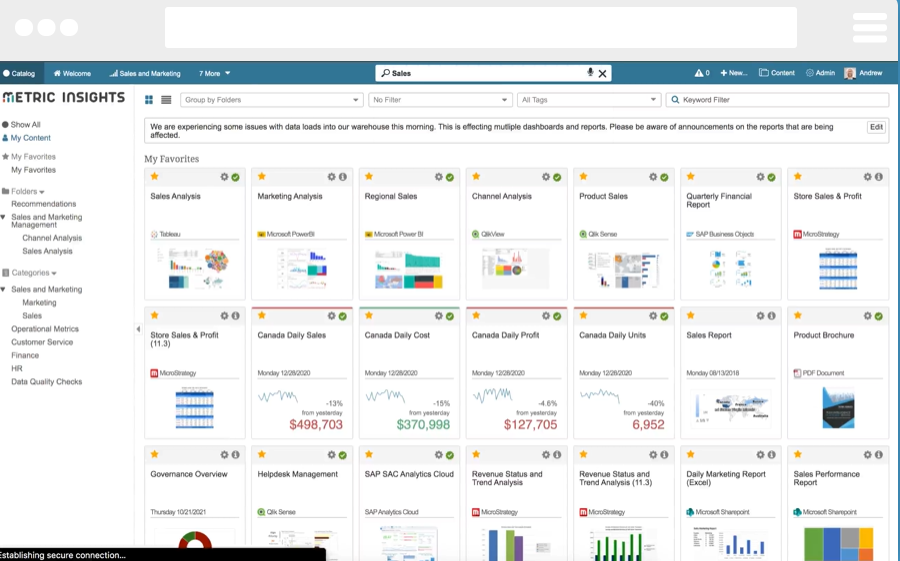 One of the top-ranked BI tools, Metric Insights is a BI portal where users can find the most relevant BI content. It provides content organization, anomaly identification, and distribution of content under a unified point of access. 
Main upsides:
A single BI portal that consolidates all required features;
Adjustable anomaly detection feature;
Ability to create user-designed portal pages with the most relevant data;
Integration with chatbots.
GoodData
The software solution is intended for data processing and storage, visualizations, analytic queries, and application integration.
Main upsides:
Users can publish their own reports;
Developers can enjoy an open platform;
Customers get vast services and support.
Wrapping up
The continually increasing volumes of data dictate the need for efficient business analytics tools. With their appealing features, BI solutions can enhance your data management by making it more cohesive, agile, and predictable. To select the right tool, consider this guidance and contact a professional BI consulting company for comprehensive advice.