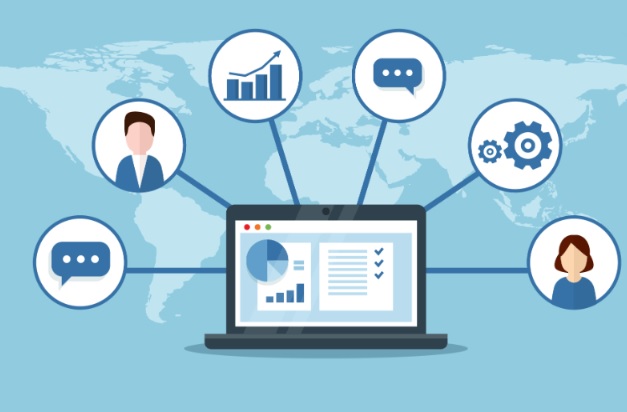 If you are a successful businessman, then CRM must be a vital part of your day-to-day life. But what kind of software CRM actually is?
What is CRM Software?
CRM is basically an acronym that stands for customer relationship management which is probably the best strategy to keep the data organized in a better way and access customer data. The history of CRM involves handwritten notes but with the advancement in the technology, everything got evolved into databases stored on laptops or PC's. And with this, CRM definition got transformed into something far more technical, CRM software. Well, CRM software is a software system that manages the professional relationships of a business and how an organization particularly interacts with their potential and current customers. This software analyses your bonds with the customers so that it can be improved in the future in order to personalize future communication. 
The main objective of using this software system is to enhance customer satisfaction and eventually increase business sales.
How is CRM Software helpful?
CRM Software is mainly preferred in order to raise the standards of business strategies and improve client interactions. And for that, this software helps you to-
To consolidate all the client data into one space: – This software acts as a hub where all the team members can access the client's data including names, contact numbers, communication history, and customer history. With this, all the employees have a proper customer view so that the company can approach the clients in a better yet more personalized way. Likewise, this software system updates the data in real-time which further helps to get rid of a lot of technical issues like inaccurate information and duplicate data entries. Well, this software leads to keep customer loyalty, increase client satisfaction and improve the customer's experience on the whole.
Shift and maintain focus on the client: – Customers can be considered as the backbone of any business and keeping all the customer requirements in mind while strategizing about the sales cycle, can be the one and only step needed for raising the sales. However, with CRM you can keep all the data related to customers in a unified environment so that you can focus on the customer's feedback and anticipate your client's requirements in order to improve your customer feedback.
Raise the sales: – CRM software is a system that decreases human efforts which enables the sales team to concentrate more towards satisfying their customers to the fullest. This software system assists the employees in increasing the profitability of deals with the appropriate step to step map on reducing sales cycle lengths for an enterprise. It offers help to sales representatives for making various strategies for the sales process.
How does CRM Software work?
As we all know that a customer is the heart of a business and full customer satisfaction the heartbeat. So, keeping solid in9teraction with the customers is very much important. But having thousands of customers and remembering all the details of each and every customer can be daunting. Well, CRM software solves all your dilemmas. 
This software system stores all the confidential data of a company's clients, interactions with the company within a central space in the form of a database so that it can be accessed by the whole team without any technical issue. Moreover, CRM software assists you with-
Track sales and records of the services you provide. It can resolve all kinds of incidents related to customer services within a short span of time.
Marketing automation functionality, in which it can help you manage different types of marketing campaigns.
How much does this advanced CRM software cost you?
The cost of this software making everything digital can vary greatly from place to place. Although there are a lot of models that can be used for deciding the price of this software system, almost all the vendors use subscription-based models that are specially designed for the pricing of such. These pricing models can depend on a wide range of factors including users count and types of advanced features it provides. Well, you can also get to pay per user or maybe a fixed amount for a fixed interval of time. However, the vendors can ask for some extra payment too depending upon your business's requirements.
Furthermore, an extra benefit of using such CRM software systems for your business is that you can always get a free trial if you are not sure about getting appropriate software for your company so that you don't waste your money on getting an in-appropriate system for your organization.
In nutshell, we can say that getting a system like CRM software is the most important step that needs to be taken in the process of achieving the extreme heights of success.