Facebook introduces a new feature known as Nearby friends. If your friend is coming to meet you, you can share your location with your friend so that it becomes easy for your friend to locate you. This feature will be effective only if both the users have this feature enabled in their smartphone. The facility to share location in Facebook has been there since a long time but this feature offers much extra and better options.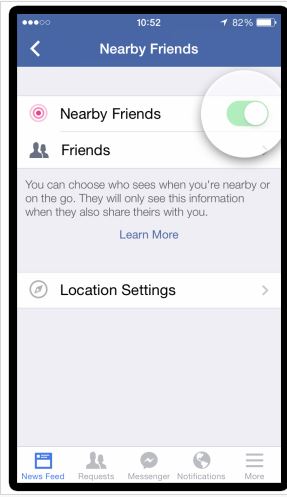 Nearby Friends automatically notifies a friend if he or she is nearby you within a stipulated diameter. So if you are thinking that what if someone else from your friend list, who is also near you, comes to know about your location, then you will be delighted to know that Facebook has left enough options of privacy in this matter. You can share your location with a single friend, close friends and specific friend lists. This feature can be set for a specified period of time and will allow friends to locate you for an intended rendezvous. This feature can turned on or off whenever you want.
Nearby Friends will be available on iOS and Android smartphones within the next couple of weeks but unfortunately only in the United States. We still haven't received any information regarding the global release of this feature but we can always be hopeful since it's Facebook.