Android has launched a new app that would convert the lock screen to a fingerprint scanner and you can unlock the phone by placing your finger on it. This fingerprint scanning technology is incorporated in iPhone 5s but unlike the real time sensor of iOS, the ICE Unlock Fingerprint Secure of Android adds camera-powered fingerprint scanning.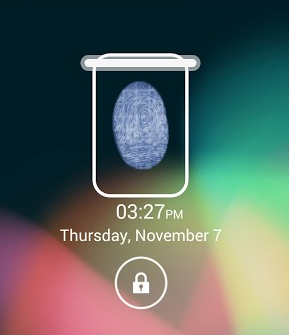 That means this app takes photographs of your finger and next time onwards whenever you want to unlock the phone your device camera will match your fingerprint from the recorded photograph. But since it is just an app and not a hardware sensor, its performance is not convincing. It may happen you place your finger but the orientation is different, your phone won't recognize your fingerprint.
Again in case of low lights or any other constraints it can show up problems. Keeping in mind all these, there is an alternative backup secure PIN which can be uses ij case your device fails to recognize your fingerprint or fails to use the app.