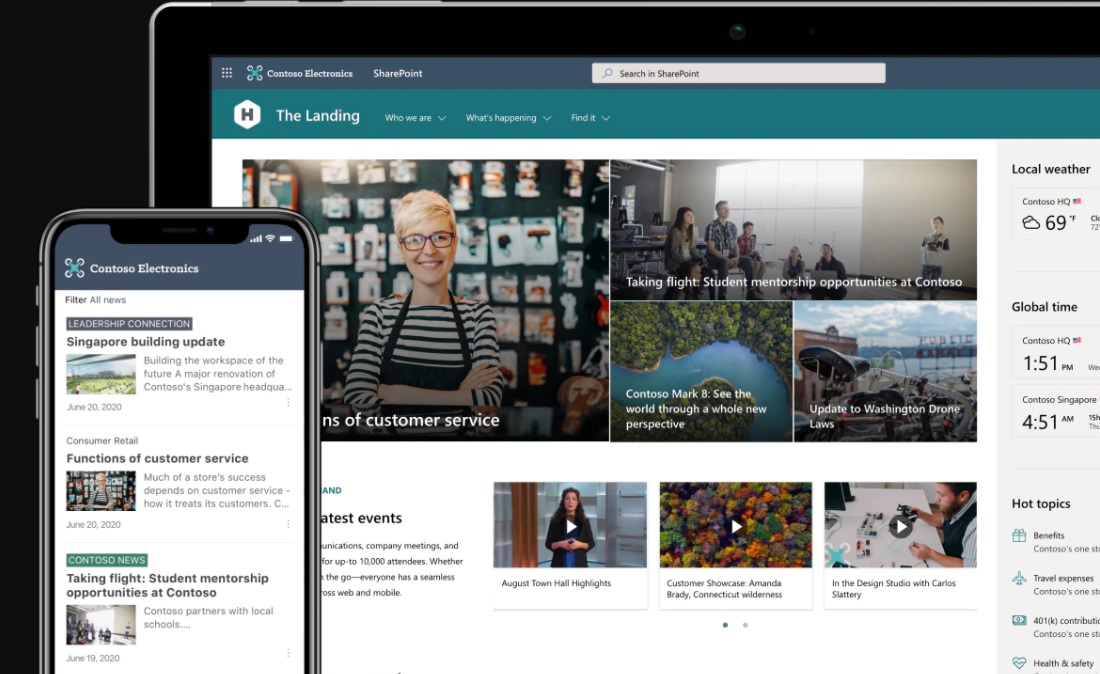 As businesses expand their workforces to meet ever-growing market demand, maintaining efficient collaboration remains nothing else but a crucial aspect of building a strong reputation and improving profits. With such a slew of tools available for businesses to utilise, many have turned to a IT consulting company to decide what will work best for their operations.
However, for those wishing to stay ahead in the digital race, continuing the right organisational practices and abandoning conventional communication methods in favor of modern tools is a new reality – as well as a necessary one. For businesses managing a large number of departments, Microsoft SharePoint may be the answer to their unique requirements – here's why.  
What is Microsoft SharePoint?
SharePoint is found in Microsoft's Office 365 productivity package and allows employees to collaborate on a central hub, rather than with fragmented tools such as conventional phone and email methods. The service also boasts the ability to enable businesses to store and share files and other essential data into one place, which is then accessible from any employee device. For large-scale companies, using an IT consultancy provider to guide the process may result in faster implementation.
Why Does My Business Need It?
For any business, big or small, communication and organisation are the seeds required for growth. In fact, professional organisations like Sphere IT – an IT consulting company in London – have reported an uptick in the number of businesses with large workforces that are spread out into different teams. As such, collaboration becomes a challenge for those without the right means.
This is where SharePoint comes in. With the ability to share nearly anything with your team, you can essentially create a private network for your entire workforce to operate from. Rather than waste time searching for resources, you can instead provide direct links to information for employees to easily access; teams will have everything they need to know already at their fingertips.
If you have employees working remotely, communication doesn't have to be a struggle with SharePoint. Whether colleagues are completing their tasks from a PC or from a smartphone, they can continue to collaborate with others from anywhere with an internet connection.
Additionally, having your own network contributes to an increase in overall security, as only those qualified in your company will have access to essential data. Not only will SharePoint save you resources that might've been spent on data recovery services from a IT consulting service provider, but also include an improvement to the productivity and efficiency of everyone who uses it.
How Can It Meet My Specific Needs?
SharePoint is flexible enough to improve your workplace's operations tenfold, all while still morphing to meet the unique mold of your business. As with any online service, how you utilise its tools will change with further use as you and your team learn the ins and outs. Once your business fully understands where SharePoint fits into its operations, the possibilities are near endless for how it can meet your needs.
As with any digital change your business experiences, it is always worth bringing in an outsourced IT consulting firm to help you implement SharePoint into daily operations. The decision will not only allow you to receive professional advice regarding how to best use the service to its fullest potential, but also assist your team in resuming their tasks without delay.
As a final note, SharePoint works incredibly well when combined with other online services. If your business is already using tools like Delve, Yammer, Slack, and more, SharePoint will be an excellent addition. The sky is the limit.
Conclusion
Whether your business is a startup or a well-established corporation, these workplace improvements will always serve as a worthwhile investment. From streamlining collaboration to efficiently storing your data, SharePoint can revolutionise your organisation's communication and result in profound progress. Contact an IT consulting company to see how the service can best fit your workforce and reap the rewards today.