Google has enriched its world famous search engine with information on some exotic delicacies. Yes Google is now able to provide the lists of menus of most of the restaurants in United States. So to enjoy this facility, just type "show me the menu at" followed by a restaurant's name. You can access the restaurant's full menu which is categorized into "at a glance", "appetizers" and "burgers". The price of all items will also be displayed. According to Google, it obtains the menu data from an unnamed external third-party provider which covers "most of the popular restaurants in the United States".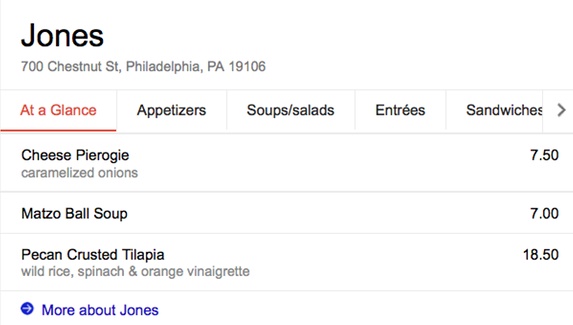 Google spokesperson told us that restaurant menu data is coming from an unnamed data partner. It's same as the technology Google uses to extract Weather information from the Weather Channel and others.
Although the feature is active for US only but we can keep our fingers crossed considering Google's urge to gain more knowledge. But for now the US users must be specific about the key words mentioned above.