Samsung Chromebook 2 images have been recently leaked in a tweet by @evleaks. About two years ago Samsung launched its Chromebook and since then no news of launching its sequel have been received. But a couple of images have been posted recently which might be an indication of the upcoming next generation Chrome book.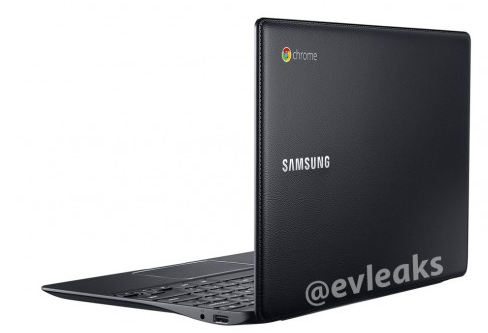 The first picture was a zoomed in view of a faux-leather covering like that of Note 3 and the next was the full view with a Chrome logo on it. Nothing more is known on the device about pricing, technical specifications. Chromebook ran on Samsung's Exynos processor than Intel. Although this chip is used in high end smartphones but it worked fine in Chromebook 2. Samsung Series 3 Chromebook 303C is found to be portable and well priced compared to its contenders.
Samsung released the Chromebox in collaboration with HP for enterprise customers in order to use cloud services and Chromebook 2 can be a partner of them also. But we have to wait till the any official announcement is being made by Samsung.