Micro blogging site Twitter now enables you to add image description text to an image to improve the accessibility of visually impaired users. Twitter has expanded its media sharing capabilities and users can now insert up to four images per single post, even edit them by inserting filters. Twitter now enabled users to share gifs and camera photos and many more. With these features incorporated, the website is now becoming a huge collection of image data base and thus Twitter felt the need to integrate new options that would help the visually impaired users to make full utilization of resources. The alternate image descriptions will help users to hear the image descriptions from Twitter. this tutorial will show you how to do this.
1. First tap on the Settings button. Next, go to Display & Sound. Open Accessibility.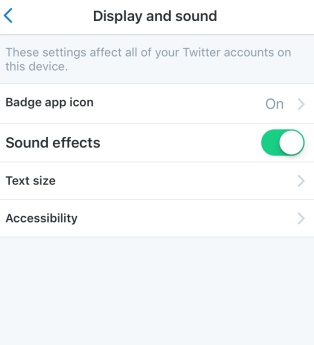 2. Now under Accessibility tab, you will find 'Compose image descriptions' option. Move the slider to the right to turn it on.
3.Now create a new tweet and add an image to it. You will find Add description button along with the image. Tap it and you can enter a description of the image up to 420 characters long.