iOS 11 has introduced a very useful feature in its Camera Roll Application. The feature is the QR Scanner. You can use this feature to scan any type of QR codes. Despite being an important addition in iOS 11, the feature has not come linto limelight. The scanner can not be recognized just by looking at the Camera app, but if you open the Camera app and try to scan a QR code, the camera will scan it.
The QR Code scanner is there in the Camera settings. If the information is something like a link or a phone number, the app will offer to open it in Safari browser or call it using the dialer. By default, this option is on. It works in the Photo and Square capture modes of the Camera app. The Photo mode is the most used mode in the iOS Camera app. So, from now on, you won't have to download a separate QR scanner. Your purpose will be served by simply the Camera app. Still, if you find the feature useless, you can disable the QR code scanner in the Camera app.
Steps to Disable QR Scanner in Camera App in iOS 11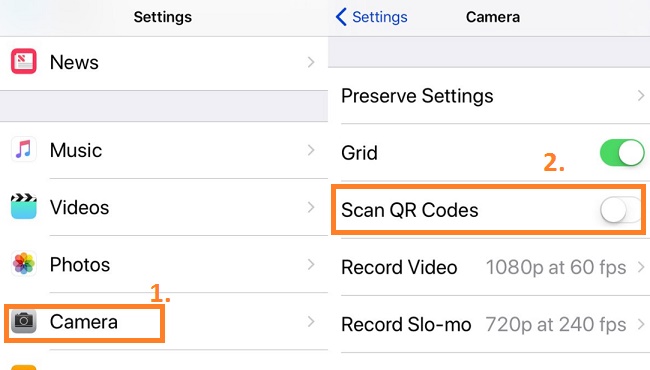 1. Open Settings app and go to Camera app.
2. Scroll and find out the Scan QR Codes.
3. To turn off the QR Code Scanner, move the slider to the left.
4. If you want to turn on the QR scanner in Camera, open the Camera app and move the slider to the right (it turns green).