The following post will help you to release the cache memory of your Android phone. Before giving you more information about cache, let me tell you about the problems we encounter when our Android phone cache is full. Quite often our Android phone runs out of memory and defers us from installing any further application and in the worst case the phone hangs frequently. We delete apps, remove media files, transfer files from Phone to MicroSD or PC but still the problem is not solved. Then the last option which we are compelled to do is resetting the phone deleting all files. So let's learn about cache.
Cache is a file which contains all images, files, icons, videos that are required to display a web page. This means cache will contain even the advertisement videos. We always see that while loading a website for the first time, it takes longer time to load but from the next time onward the web page will take comparatively lesser time to load. The important files which contribute in opening the webpages are stored in the cache memory. Therefore one substantial solution is clearing the cache memory which will essentially remove the remnant data of the webpages.
Let's learn how to clear the cache memory from an Android device
I am writing down the steps. The steps might differ if your Android version is old. My Galaxy Note 2 has Android KitKat 4.4.2 and this often suffers the insufficient memory issue. I will show ou how to clear the cache data.
1. First tap Settings and then go to More.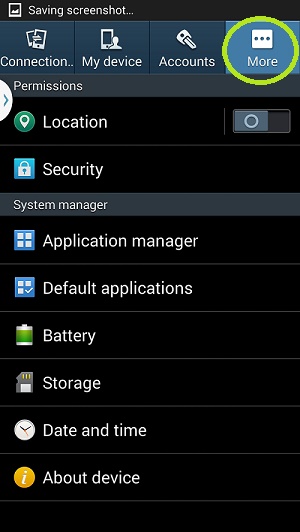 2. Click on Storage.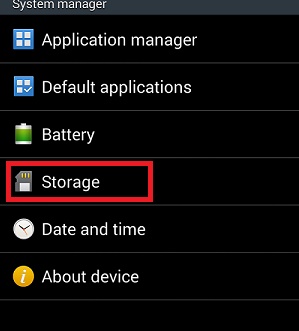 3. The Device Memory will calculate and show you the system memory, used space, cached data, miscellaneous files and available space. It will also display the MicroSD space also.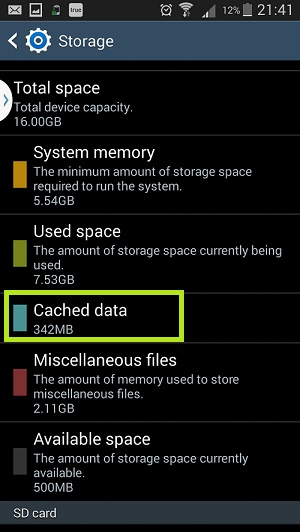 4. When you tap the Cached data, your phone will prompt you to confirm if you want to select the option. Tap OK to confirm.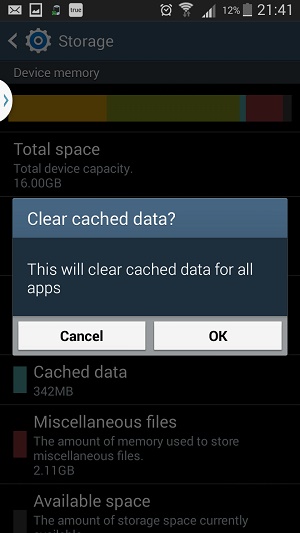 5. The OS will tell you that clearing cached data restricts clearing app data.
There are certain apps which have their own cache settings and even web browsers have. In Chrome, when you want to delete browser history, the browser will ask you if you want to clear cache.