What is iPhone DFU Restore?
DFU is the acronym for Device Firmware Update. From the terms, it is clear that it is solely related to the software update of any device. DFU is a device independent and vendor independent mechanism for upgrading devices, but different devices have different mechanisms. For Apple devices like iPhone, iPad, iPod, DFU restore is the last resort for any technical fault on your iOS device, be it software or hardware that cannot be solved otherwise. Apple compels users to take refuge to DFU restore if there is no other way out to revive your iOS device. Once you accomplish a DFU restore, your duty doesn't end there. You need to restore your iPhone from DFU restore.
With DFU restore, you can upgrade the software of your iOS device, or downgrade the firmware of your iOS device. Different versions of iOS device have different methods to enter into DFU mode. For example, iPhones 6S and all previous versions have different way to activate DFU mode, whereas all iPhones later than iPhone 6S have different way.
The most simple way to enter your iPhone in DFU mode is to connect your iOS device with your PC or Mac. Press the required key combinations on your iPhone and voila! Your iTunes will display a certain message on your PC, which will signify that your device is in recovery mode. One thing you must keep in mind, is that with DFU mode on, your iPhone screen must turn black and it should not display any icon, any warning message or anything. The screen should be black. If you find anything on your iPhone screen, for e.g. an Apple logo or a warning, then be sure your device is not in DFU mode. This is applicable for any iOS device.
iTunes will ask you if you want to restore your iOS device to its Factory Settings. If provide an affirmative response like OK, Yes, or whatever it comes, iTunes will download the latest iOS version from Apple servers and install it on your iOS device. The restoration takes about 40-45 minutes.
Now the main catch is to restore your iOS device back from the DFU mode.
Restore iOS Device From DFU Mode
The most popular process of restoring your device from DFU Mode is via iTunes. However, it might cause data loss if you cannot resurrect the iOS device properly.
dr.fone iOS System Recovery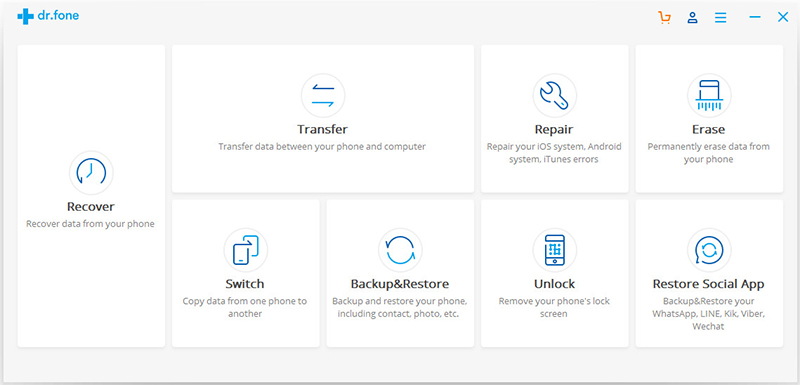 In that case, you can look up to third party application like dr.fone iOS System Recovery
The application can invariably fix your iPhone or iPad and restore it from DFU mode without the help of iTunes.
dr.fone iOS system recovery application prevents your iOS device from any sort of data loss. That is the reason you can rely solely on this application without taking help from iTunes.
It is compatible with all models of iPhones, iPad and iPod touch.
It can not only restore your device back from DFU mode but also fix any iOS system issues like recovery mode, white Apple logo, black screen, looping on start, etc.
Works for both Windows and iOS on their respective versions.
The process of installation and use is very fluid. Install the software and launch it. Choose system recovery as the option for restoring the device from DFU. Then follow some simple instructions and you can accomplish your goal very easily. Check out the screenshot below: