HTC has got a new descendant for its Butterfly series of smartphones. The new member is known as Butterfly 2 and this will be the third phone in the line-up. The Butterfly 2 includes the best of HTC One and M8 and claims to be the finest Butterfly phone. The phone appends the high end specifications with the ultra stylish plastic build of the E8. The specifications of Butterfly 2 has surpassed that of HTC One M8 especially in the camera.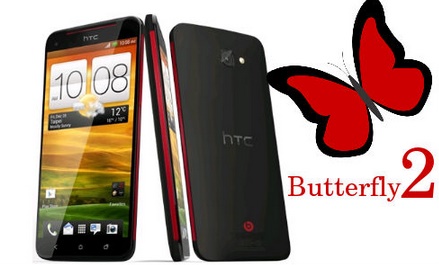 The Butterfly 2 incorporates a Duo Camera with a higher resolution than that of M8. The camera will be 13 MP along with depth sensor at the back. The depth sensor facilitates selective focusing and 3D tricks. So camera is definitely revamped from the ultrapixel camera. The Butterfly 2 is water resistant and has an IP rating of 57. While designing Butterfly 2, special attention has been given on its appearance. There will be no flap covering that can hamper the look of the phone but all the sensitive components are smartly sealed within the device so that they are not damaged.
The device sports a Snapdragon 801 processor, 2GB of RAM, internal storage of 16 or 32GB storage options with a 5-inch Full HD display and Sense 6. it will come in 3 vibrant colors red, blue and white. Butterfly 2 claims to bring stronger battery 2,700 mAh and BoomSound speakers. Butterfly 2 is announced to be released in Japan and East Asia. The Japanese variant will be known as HTC J butterfly HTL23 and will come with KDDI carrier. But a bad news is that the device will be confined within South and East Asian countries like Taiwan, Hong Kong, India, Malaysia, Singapore, and Thailand. Unfortunately American countries will be deprived.