A disclaimer: This is my review and experience with the device as a breastfeeding mother. Users should visit lactation consultant, in case, they face any difficulty or pain while breastfeeding.
Breast pumps are undoubtedly a boon to breastfeeding mothers. Breast pumps have so many advantages.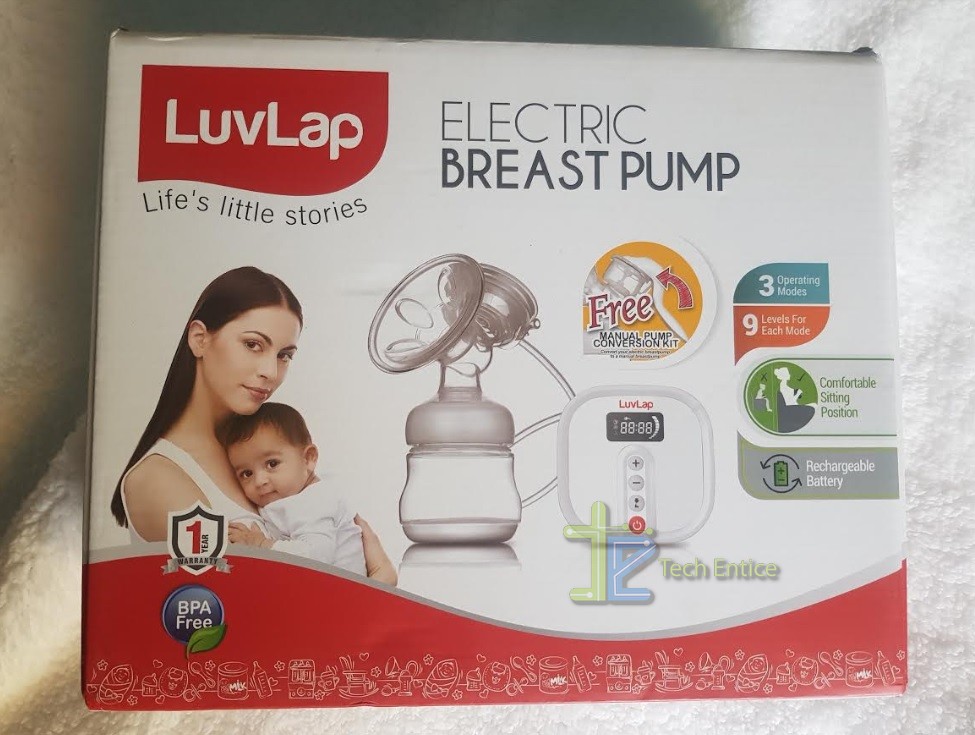 It helps lactating mothers to pump and store their milk for babies to consume, when they are away from their babies. With breast pumps at hand, working women can continue to exclusively breastfeed their babies. Breastmilk is the best nutrition you can provide your little one. Breastmilk has several antibodies that help your baby to gear up against several infectious diseases. Hence, with such amazingly helpful pumping devices, you can continue to feed your babies, the best food, that is, your milk.
Secondly, breast pumps help you to increase your milk supply. Breast milk production is a demand and supply situation. The more the baby nurses, the more your breastmilk produces. Pumping is quite similar to nursing. If you notice, that your milk production is not enough for your baby, you can increase the production to the considerable amount by pumping. Here, I would like to mention, amount of pumped milk is not the parameter to measure your breast milk production. Initially, pumping yields very little amount of milk, even though you are producing good amounts of breast milk. The best parameter to analyze your breast milk production, is the number of wet diapers and the weight gain. If your baby is urinating 8-10 times a day, and gaining weight as expected, then your milk production is good. With time and experience, you become adept in pumping and your breasts adjust their milk production capability accordingly.
Many women have small nipples, inverted nipples and many such issues. Many babies have issues with latching. Back in the past, with these problems, mothers were compelled to formula feed their babies, but now you can pump your milk with a breast pump and bottle feed your baby.
Pumping also helps you to deal with galactoceles. Galactoceles are milk cysts, which are very common for lactating mothers. Sometimes, milk ducts get clogged with milk causing a cyst like thing. The best treatment for galactoceles is expression of milk. The more you express milk, the quicker the problem solves. If you express milk with the help of breast pumps, you can be saved from the pain of mastitis.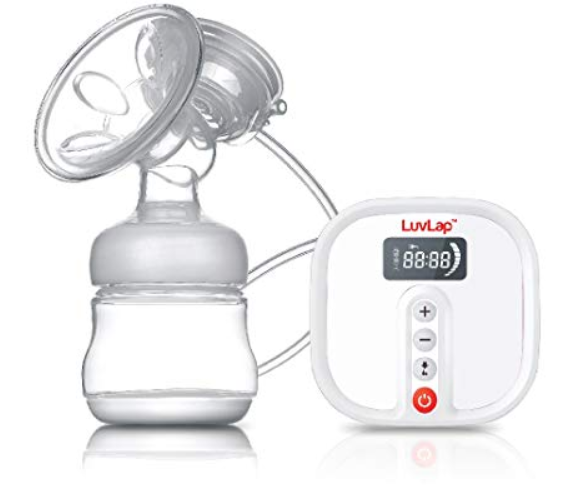 Now, you have an idea about the necessity and advantage of pumping.
In this article, I shall share with you my experience with the LuvLap electric breast pump. I have tried manual breast pump in the past, but it is exhausting if you are planning to pump regularly, multiple times a day. If you pump once in a while, then manual breast pumps will serve your purpose.
The LuvLap Electric Breast pump is a reasonably priced device, but extremely efficient.
What's Inside the Box?
The box contains the following:
The electrical pumping unit
A silicone tube
The breast pump body
A silicone diaphragm
A massage cushion
A duckbill valve. There is an extra valve provided in the package that I got.
A power adapter
Extra milk storage container with cap
A Cap to protect your device against dust
A handle for manual pumping along with a manual cylinder.
A muslin bag to store all your equipments, so that they don't get lost.
A user manual
The electric pumping unit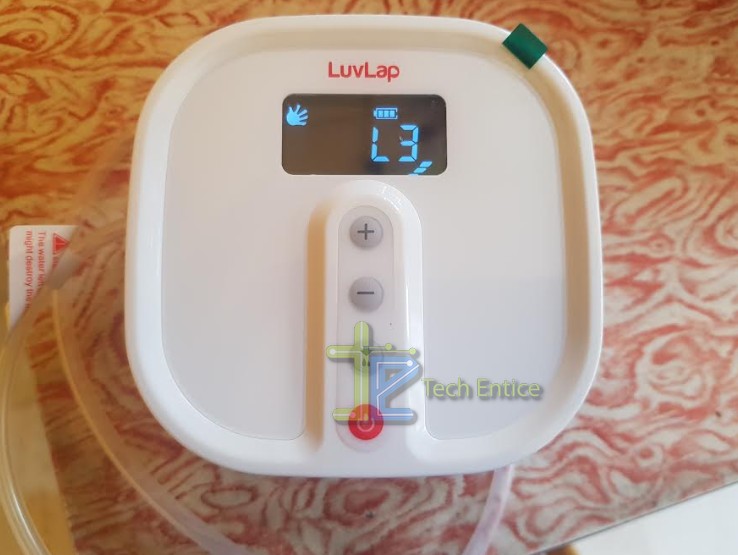 The pumping unit of LuvLap electric breast pump has a prominent LCD panel to display timing, mode of operations, pumping power level, battery indicator, etc. The device has three pumping modes- massage mode, bionic mode and a deep expression mode. The massage mode works at the fastest rate among the three, but intensity is the lowest. It actually helps your nipple to get adjusted for expression. The bionic mode expresses milk at a medium pace, but the power is comparatively more than the massage mode but less than the deep expression mode. The deep expression mode is the slowest but most intense mode of expression. There are 9 levels of power. The plus and minus buttons help you to increase or decrease the power level. Never increase the power beyond your tolerance. Always set the limit so that you can enjoy expressing milk for your baby. The power button turns the device on and off. The mode selection button changes the mode with every tap. The best thing about the pump is that it has a rechargeable battery installed, just like mobile phones. So, you can charge the pump and take it with you while traveling or going to work.
Battery Is Commendable
The LuvLap electric breast pump works for 30 minutes at a stretch and automatically turns off after that. It is not recommended to pump beyond 30 minutes in a single sitting. The battery is very powerful and you can pump, about 4-5 times, 30 minutes each, on a single charge.
Convertible To Manual Pump
The package has a handle and a manual unit to convert the pump into a manual pump. This is extremely helpful when you are outside your home and your pump battery has been exhausted.
Great Pumping Experience
The equipments are of good quality. The massage cushion is soft and provides you the most comfortable experience. You can get the pump in Amazon.com and in online or offline retailers at an affordable price. I would highly recommend LuvLap electric breast pump to breastfeeding moms.