Moto G set a benchmark for being a great successful smartphone of last year. The main plus point of Moto G was its imoressive specs in impressive price. Owing to the world wide acceptance and great success of Moto G, Motorola is launching to sibblings Moto E and Moto G LTE. Amazon gave a faint hint on the date if release being June 3rd 2014. MOTO E is available in online stores and Motorola's website. Moto G LTE has added support for microSD slot and LTE.
The two handsets are available in Amazon and Motorola website at Moto E priced at $129.99 USD and the Moto G LTE at $219.99 USD. Motorola has not clearly specified its release date. Just have a look at the features of the two phones.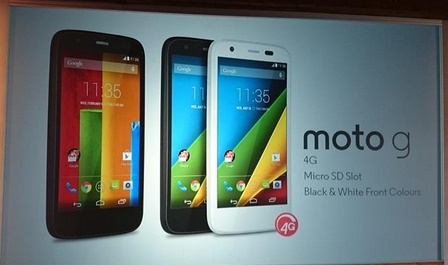 The Moto G LTE features
include 4.5″ 1280×720 display with 329ppi
Qualcomm Snapdragon 400
1GB RAM.
It supports memory 8GB with microSD slot.
Both rear and front camera will be there. Resolutions are 5MP Rear camera and 1.3MP front.
2070 mAh Battery
The Moto E LTE features include
4.3″ 960×540 qHD display, 256ppi
Qualcomm Snapdragon with 200
1GB RAM.
4GB user storage, MicroSD slot,
5MP Rear Camera
1980mAh battery.