OnePlus company has announced that it is all geared up to launch its new Star Wars Edition of OnePlus 5T smartphone. The model has been released in November and has managed to bag several accolades for having a great combination of price and specifications. The Star Wars Edition hit, soon to all the stores within a few weeks. However, no specific date has been announced yet. But the phone is likely to launch along side the release of Star Wars: The Last Jedi which is due for release later this month. The announcement was made at the Bangalore Comic Con.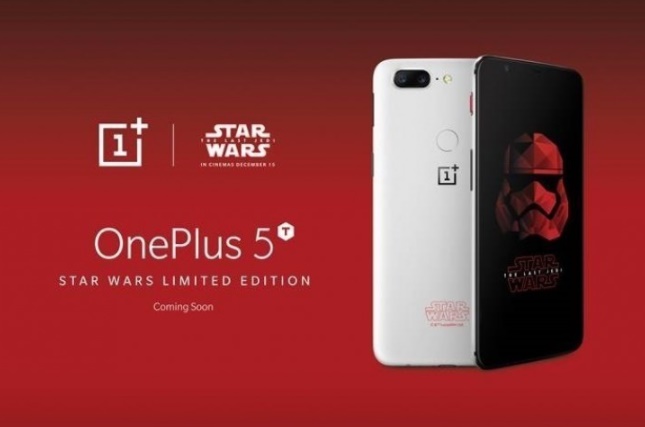 Last month, a post by XDA developers popped up which was deleted later on. The post was related to the code dumps pointing towards a Star Wars theme on the device. The Star Wars edition phone has a white back cover in the teaser with the words Star Wars in red, and the front of the device has a Stormtrooper and Star Wars logo, this will probably be one of the default wallpapers shipping on the phone.
Details on the device are not clear so far. But it is expected, that it will take after the stock OnePlus 5T. The very basic specifications include a 6-inch 18:9 AMOLED display, a Qualcomm Snapdragon 835 processor, two variants: 6GB or 8GB of RAM. The device is powered by a 3,300 mAh battery with Dash Charge, and features Bluetooth 5.0, NFC, and USB Type-C and cameras: are 20MP (rear) and 16MP(front). The OnePlus 5T starts at $499, features . In case, you are awaiting the Star Wars edition, you'll have to wait a bit longer.