WhatsApp has updated its app from time to time and added a bunch of fresh updates last few months. The app added file attachment feature that has been appreciated by users across the world. The last update for which WhatsApp has been in the news is the integration of end to end encryption in conversations. Not only text messages, but also media file are being encrypted end to end. Amid all these big updates, WhatsApp has pushed a mild update very quietly. It's the text formatting feature by which you can type in bold, italics and strikethrough.
This feature is definitely exciting but the problem is that the company has not yet added any dedicated buttons for text formatting. All it has done is providing some text syntax which will enable users to format the text.
The syntaxes have been listed down below. The text inside the symbols are the text that you will send to any contact.
Bold: *bold text*
Italics: _italics_
Strike through: ~Strike through~
Bold & Italics: *_Bold & Italics_*
For example, I am typing:
*Hi Anik this message is in bold format*
_This is a message in italics_
~The message is strikethrough~
*_How are you my dear?_*
Check out the messages that appeared in WhatsApp,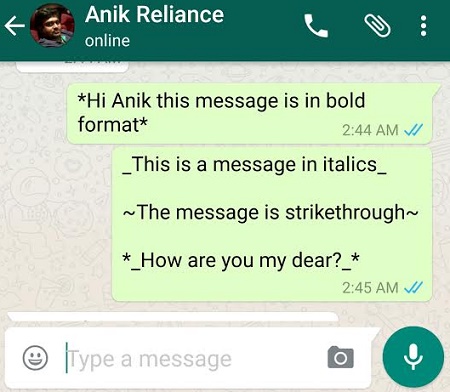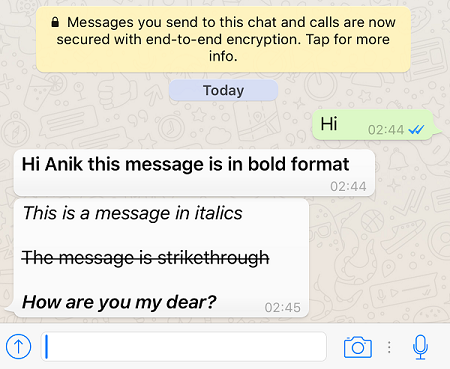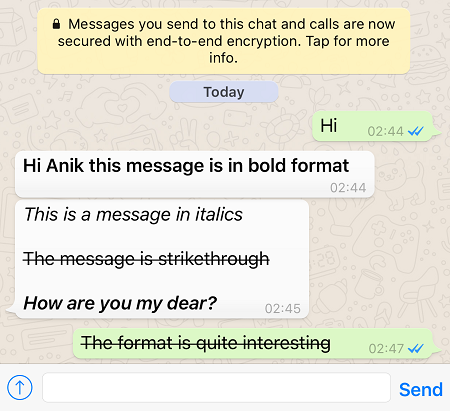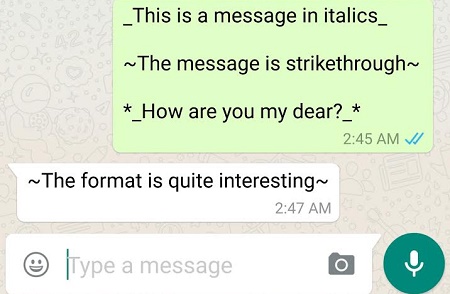 This feature is only available for iOS. So if you have an Android handset and you send a message to an iOS device using the formats, then the iOS device will get the desired output but other platforms will only see the messages along with the syntax. Similarly, if an iOS device sends a message with formatting to a different platform, then that device can see the desired formatted text in the sent message but the recipient platform will not be able to get the message with formatting.
It's expected that WhatsApp will add separate dedicated buttons for formatting and hopefully other platforms will be provided the service very soon.