You all know that with Instagram you can create multiple accounts and link them together. Obviously, this calls for an ethical use of multiple accounts and not fake accounts. You can have a personal account and a business account, or one personal and one private account, etc. If you want to post the same image/images on your Instagram accounts' feeds, you can easily do so. In this article, I will show you how to post the same image on Instagram feed of your multiple accounts. 
Now there are many Instagram scheduler and manager services available nowadays that can manage and schedule large scale posts and schedules. But if your requirement is not that huge, you can simply follow the steps. 
Steps To Post Photos From Multiple Instagram Accounts Simultaneously?
1. The first thing you need to do is link your different Instagram accounts. The process is simple, login with one account to the Instagram app, and then add other accounts. Just as you do this, all accounts will get linked together,
2. Now, upload a photo, set filter, like you do. Then before tapping on the tick mark, check out the option Post to other accounts. You will find slider corresponding to all other accounts. Tap on the slider to turn it blue. Now, tap on the tick mark. The post will be uploaded on both your accounts.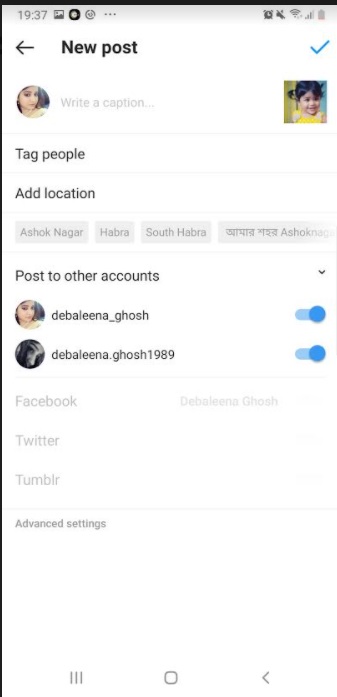 That's all!