ABI research has revealed a new statistics of the shipment of mobile devices for the first quarter of this year. The new figures give a clear indication of the increased shipment of mobile phones. People nowadays are welcoming technology by grabbing smartphones and other smart mobile devices. This trend has sharply reflected the figures. About 430 million mobile devices have been shipped in the first quarter of the year with market led by Android followed by iOS. In the last quarter we found that Windows mobile platform replaced BlackBerry and successfully enrolled its name among the top three highest selling mobile OS.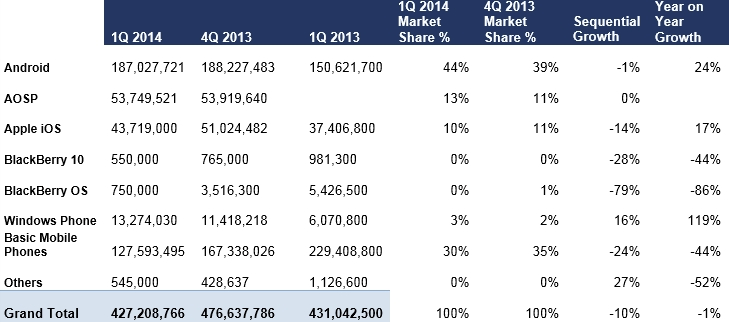 Blackberry has been declining since the last quarter of 2013. BlackBerry 10 and BlackBerry OS, if considered separately, do not make up even 1% of the phones shipped in 2014 whereas Windows phones have performed well and the sale figure has astonishingly increased to 119% compared to the same quarter last year. 13,274,030 Windows Phones have been shipped that comprises of 3% of market share.
Now coming to the leading platforms i.e. Android and iOS. Android experienced 24% of growth. About 187,027,721 devices have been shipped in the first quarter. It's surprising that this number is less than the one for the fourth quarter of 2014 but still Android has all potential to lead in coming quarters also.
iOS has 43,719,000 devices shipped making 17% year on year growth. Apply is growing but at a slower pace.