Samsung Galaxy Note was the first device that bore an inbuilt elegance and style with the S pen. The highly sensitive stylus known as the S Pen gave Galaxy Note a feel of pen and paper and hence the name Note have been so apt.
S pen led to beautiful notes, easy handwriting converted to texts and so on. But comes the threshold level when people are ought to be bored with the S Pen unless some it acts like some magic wand.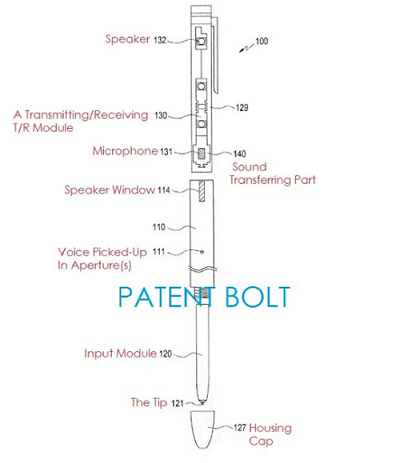 All these human psychology and business strategy is mastered by these titans and hence Samsung would reshape and re kindle the S pen of its Galaxy Note 4 in a new form- surprisingly a phone. Check the diagram below which illustrates the basic blocks if the new S Pen.
The S Pen consists of a speaker, Transmitter-Receiver module, sound transmitting part, voice picked up in aperture, input module, the tip and a housing cap. Thus pen is discovered by Patent Bolt. You may be wondering what is the requirement if this phone, well you can use the pen as another wireless phine while you continue to do stuffs in your phablet. The functioning has been satisfactory as reported and Samsung already earned a patent for "protruding grip". Galaxy Note 4 and Galaxy S5 will be showcased in Mobile World Congress, the biggest global fest of mobile gadgets.