In the present era of virtual socialization the mobile phones have become harbingers of social media giants. With the development of latest technologies, no mobile phone user is safe in terms of privacy. It is unequivocal that the maximum impact of this social media addiction is on the youth. With the contrivance of artificial intelligence and cyber bots the threat to social media users specially the youth has increased by leaps and bounds. There is no dearth of cyber bullies in this world and one in every six is a direct recipient of it, either knowingly or unknowingly. Youth exploitation by drug peddlers, pedophiles, terrorists and psychopathic people is increasing at an alarming rate. With the enhanced capabilities of unethical hacking the cameras of a phone can be hacked and even the phone can be controlled and monitored remotely without the user getting the slightest hint of it. It can even reveal the location of a person which is a big security threat. The terrorist organization like ISIS are even using this media for recruitment evading all security agencies. So it's high time that we have a technology in hand that can counter the above mentioned problems. That's when Spy Apps are required.
Spyzie is a software application that can monitor a smartphone from both Android and iPhone platforms and track them remotely. Here is a simple tutorial showing the installation and usage of the software.
1. The first step is to register for Spyzie. Create and account and mention for what purpose you want to create. It is mandatory to indicate the purpose of Spyzie application usage before proceeding with installation. Please select the appropriate option and set the visibility of the Spyzie application icon.
2. Now perform some steps on the target device. Open the Settings App, scroll down and tap on Security.
3. Find out the Unknown sources. Enable it to allow the installation of apps from unknown sources. Let me mention here, that enabling this option puts your phone at risk. But for installing Spyzie, you have no choice.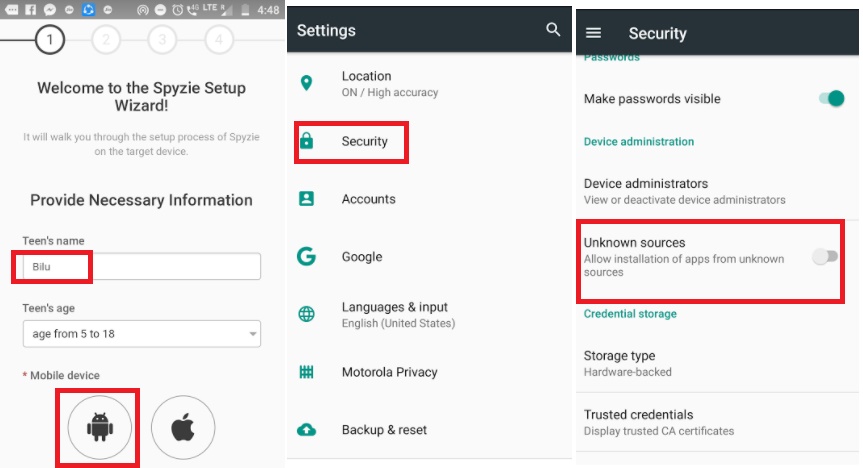 4. Now again go to settings, scroll down and go to Google. Tap on Security, and then choose Google Play Protect.
5. As Google Play Protect opens, go to scan device for security threats. Disable the option.

6. Download and install the monitoring app from tracksp.vip.
7. Next, open either the "Notification" or "Download folder" to start installing.
8. As the app is installed, open the Spyzie app. Login to your Spyzie account. Then, click "Grant" button to process permission requests.

9. Now follow some easy instructions here.
10. As you complete the process, you can now monitor the mobile from your desktop.
Pros
The user interface of the monitoring or parent device is very vivid and detailed. You can get a lot of information like device information, last active location, new call information, new message information, phone activities, frequent callers, a dashboard showing photos, videos, etc. The detailed information is extremely useful.
Cons
Not any.
Conclusion
The Spyzie software works great and serves your purpose fruitfully. Although, you can now have a sigh of relief knowing the whereabouts of your teenage child, spying should be executed in a restricted manner. That is, you must never spy on any person you want, just for the sake of curiosity. The Spyzie software and software applications like this, are designed and developed with a purpose. Hence, they also come with a set of rules and regulations, that you must abide by. This type of software applications is designed for primarily two purposes: 1) In workplaces and organizations, to check if an employee is embezzling funds or confidential information, 2) to track the activity of your teenage daughter or son if you find any suspicious change in them. Although it is recommended that you let them know that they are being monitored, sometimes teenagers act otherwise learning the truth. Hence, in the latter case, you might keep secrecy. The final conclusion is that you have to use it ethically or you may land up in legal trouble.