Google announced a new addition to its Transparency Report page called the Copyright Removal Requests. In this section, Google regularly receives requests from copyright owners and reporting organizations that represent them to remove search results that link to material that allegedly infringes copyrights. Each request lists specific URLs to be removed and Google lists the domain portions of URLs requested to be removed under specified domains.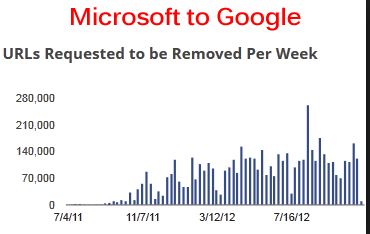 Microsoft, being under the top copyright holders, also asks Google to remove those links from its search results which contains copyrighted materials. But recently it was an unusual request by the software giant to takedown its own web pages thereby accusing its own website of copyright infringement. Microsoft accidentally filed a DMCA (Digital Millennium Copyright Act) to eliminate search results of its own website. Clearly it was a mistake on their part.
But it was LeakID, an organization working on behalf of companies like Microsoft to monitor such illegal links and sources. It was a blunder on the part of LeakID which asked to remove links to Microsoft's store, support pages, product description from Google's search results. This took place because LeakID is known to using automated system which sends such requests and hardly are these requests checked for any accuracy or erroneous submissions.
However, Google figured out this folly and did not process any requests made by LeakID considering it to be a mistake on their part and did not remove any pages from its search results.
Even earlier also, Microsoft has made mistakes by filing DCMA against original websites for copyright infringements. Reports say that Microsoft has submitted nearly 5 million takedown requests in one-year period. This act potentially harms less prominent websites which rely on Google for page views and due to the flood of DMCA requests they could even disappear from the search results.
Thus, the recent fatal request may lead to an improved removal request by copyright holders, i.e., it is expected that they will keep a check before filing a DMCA.