WhatsApp has taken a step forward against racism. The globally acclaimed phone messenger application has updated its emoticons and added several additional options of choosing the skin color for the human emojis. Previously like other messenger icons, WhatsApp included only two skin color for the emoticons- the traditional yellow and the white skin. But with a recent update, you will notice an arrow with each of the human emoticons. When you tap on the arrow corresponding to any human emoticon, it will open the icon in total 6 skin colors.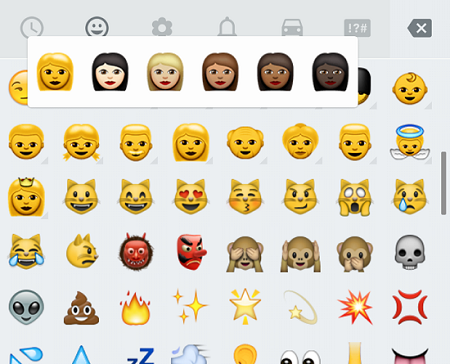 WhatsApp went against racism days after Facebook changed its Friends logo to promote gender equality. The friend request icon which earlier showed a male in the front and a female slightly behind him has been changed to a new one where both the male and female share equal space. The different tones have been added by Apple in its series of emojis for OS X. The tones are modelled on the Fitzpatrick scale, a recognised standard used by dermatologists.
There is a question on why skin color options are added. Different people have different opinion. While some called it a racist gesture, others are happy to have the different choices, which help them to identify with the characters more.