Speedcoder is a web application that enables coders to type computer codes faster and more efficiently. Speedcoder is built to ameliorate the typing and coding speed of people. The web application has a lot of interesting features along with tutorial to provide better guidance. The tutorials are rich and have dedicated guidance for every computing language.
With Speedcoder, you can practice Typing computer codes of your desired programming language with finger guiding system. The main thing to remember is that you are not supposed to look at the keyboard but the screen which shows where the fingers will be placed. After completing each lesson you can see your WPM (words per minute), Accuracy and keys with most mistakes. This web application is a bit different than the others. All other typing tutors are aimed for general english, and do not provide practice for special characters used frequently in programming. With SpeedCoder you focus on those characters and keywords. This help you in reducing typing mistakes and improve your overall typing speed.
The following tutorial will show you how you can learn to type codes faster with SpeedCoder.
Steps to Write Computer Codes Faster with SpeedCoder Web App
1. Visit Speedcoder web application.
2. Click Start Now on the right.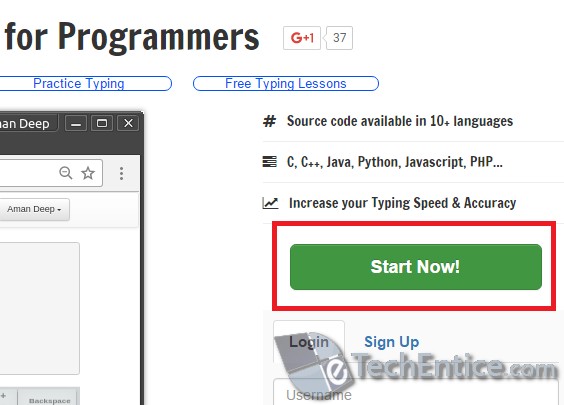 3. Select your language. Now a keyboard will appear with a code. you will have to type the leters which are highlighted. In this way, you have to keep on typing. You can do it as Guest or create a login ID so that your work is saved.