Google brought the sweetest version of Android, the Android Lollipop with a bang. The new version was built with all the new flavors that were possible to inculcate. Starting from Material Design implementation to having a completely new user interface, Android Lollipop had so much new to offer. But a recent survey revealed that even seven months after inception, Android Lollipop is present in only 10% of all Android devices. Even though most of the upcoming and newly launched flagship devices are released with Lollipop, pre-installed but Google is making a good delay in rolling the update for many of the existing high end devices.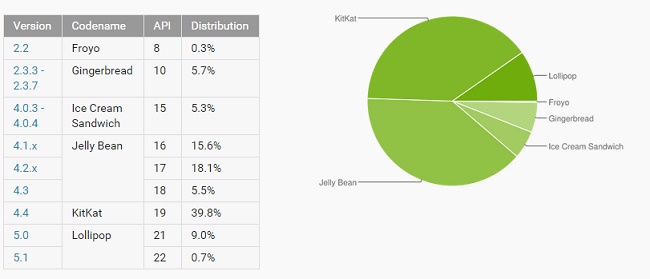 The data has been collected from Android Developer's Dashboards. The group ran a 7-day survey which ended on May 4, 2015 which extracted the necessary data from Google PlayStore services apps which support Android 2.2 and above, devices running older versions are not included. This study does not include any version which occupies less than 0.1% in the market.
KitKat is the sole winner with 39.8% market occupancy which is followed by Android JellyBean occupying approximately 38% which suffered a minor decrease. Android Lollipop has risen up from a faint 5% to a 9 % but still it's unfortunate that Android Lollipop, despite of having so many new features and technologies incroporated in them, could not replace the 5 year old or so versions.