Google Now has come up with so many features that saves your invaluable energy from searching the internet vigorously to some little voice commands. One of them is definition "Okay, Google". Your search will only be sent to Google if you say "Ok Google" while on a google.com tab and provided the extension is active. When you say Ok Google, the mic color turns grey and the extension starts some internal processing after detection of the command. Now you can be a bit more lazy by giving Google the task of selecting good music for you. This time, replace "Ok, Google" with "play some music" and you'll get an "I'm feeling lucky" radio station fired up in the Google Play Music app.
The "I'm feeling lucky" radio station communicates with All Access users and streams all hit songs. If you do not subscribe to All Access, it will instead present an "I'm feeling lucky" instant mix out of your music. But in that case you should have already uploaded your tunes to Google's Play Music cloud storage, and have the latest Google Play Music app installed in your device.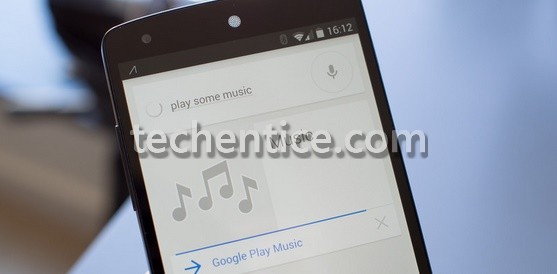 so enjoy the music experience to 20000 songs instantly by installing the Play Music app, and of course your device should be running Android 4.1 or higher and have the latest Google Search app installed.