Clearing cache from google Chrome is very easy. All you need to do is open Options, go to History, As History opens, you will find an option called 'Clear Browsing Data". This option will take you to a list of things you can clear from Chrome history. There is Cache menu which you can check by clicking on the checkbox. But this option deleted the cache memory as a whole. This built-in feature in Chrome does not allow you to delete the cache of a specific website.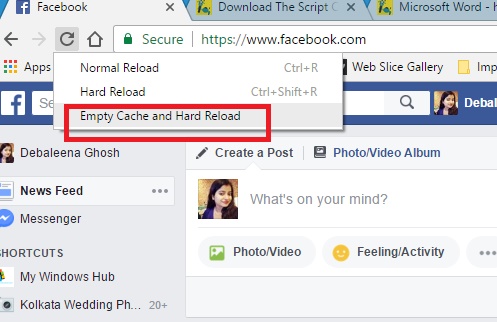 There is a misconception that Ctrl+F5 serves the purpose but it's not true. It only performs a hard reload of the website but the cache remains intact. So how to clear the cache for a particular website? Here's the answer to your question.
Steps To Clear The Cache For A Particular Website
1. First open Google Chrome.
2. Go to the website you want to clear the cache for.
3. Now press Ctrl + Shift + I. This will open the developer tools,
4. The developer console opens, right click on the reload button next to the address bar.
5. There will be three options in the right click menu- Normal Reload, Hard Reload, and Empty Cache and Hard Reload.
6. Select 'Empty Cache and Hard Reload'. The cache for the particular website will be cleared.