Few hours are left for the release of iOS 8 and like every year we are excited for the update. Apple claims that this is the biggest ever update among all versions. iOS which is the foundation of all Apple devices like iPhones, iPads and iPod Touch is getting its mammoth update in some time from now. The release has been announced a week back and it's now time that eager users will be able to download the OS in their compatible devices. But before cheering and prospering learn if your device will be able to get iOS 8. Here we are with some guidance and tips. First let me upset some users who have version before iPhone 4S. Unfortunately those iPhones can not be updated to iOS 8. iPhone 4S, iPhone 5, 5S, 5C and fifth gen iPod Touch are the lucky ones.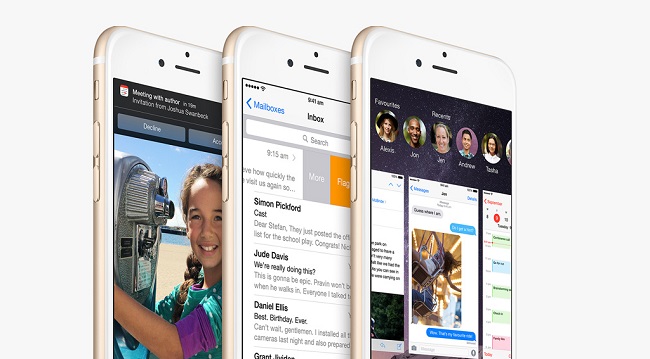 iOs 8 is coming with a great number of updates and some promising features are iMessage, Healthkit, Quicktype, Photos, Family Sharing, iCloud Drive, Continuity etc. Before going into details of the features I am telling you the most important thing- the time of release. Let's have a look at some of the local times.
iOS 8 release date
17th September
iOS 8 release times
USA time is 1 PM EST.
UK time is 6PM evening.

India time is 10:30PM IST.

Below there is a list taken from iOS 8 Release website that has the entire list of local times of different places which will get iOS 8 update.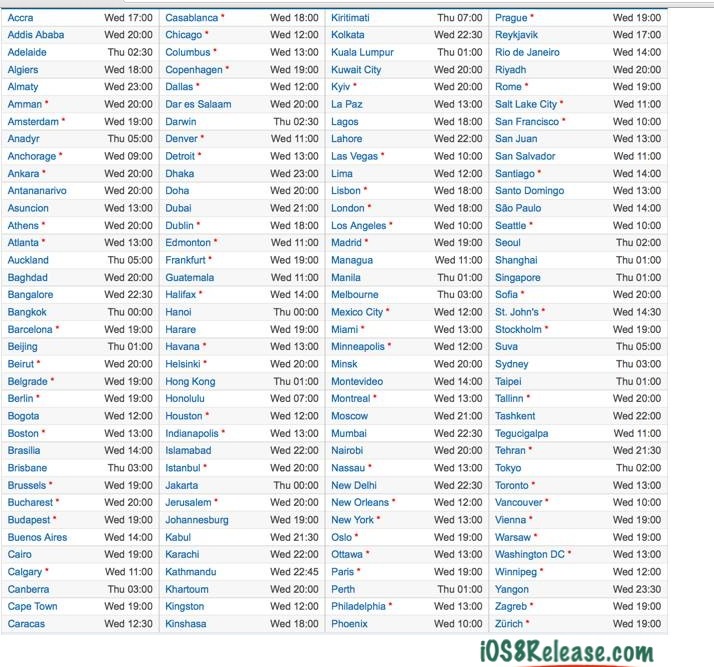 Now coming to the new enhancements being incorporated in the update.
iMessage

iMessage is the phone messenger service. You can share text, voice messages, photos and videos in a fluid way. One of the abilities which is convincing more than WhatsApp is the ability to include contacts in a group and remove them. Users will get option so that they cannot be disturbed when busy.
Health

This is a great source to boost your health concern with lots of new activity tracker, heart rate monitor and other health and fitness apps and tips. It can guide you with diets and point your unhealthy lifestyle. However this app works in accordance with the Apple Watch which is due next year. Till then this app is unusable.
QuickType

Apple's QuickType is a predictive typing which is more effective and intelligent. It can keep track of your frequently used words from past conversation and you can write in entire content with just few taps of fingers. The QuickType keyboard keeps all your content private and never sends the content to cloud. WIth Photos app you can take pictures like a pro.
Photos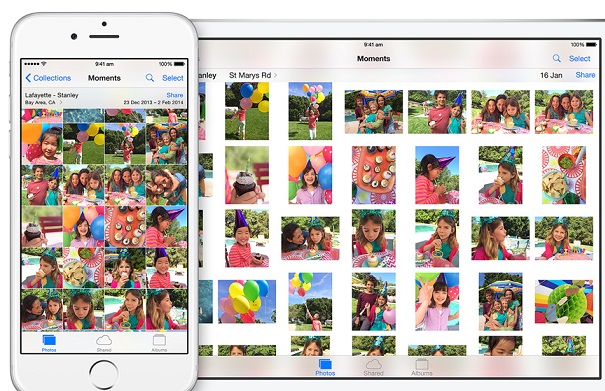 The iOS 8 version has various extra editing tools like automatically straightening, with smart editing tools, light, colour adjustment and some more deeper fine-tuning and effects.
Family Sharing

Family Sharing is an interesting feature that lets you share memoirs, birthdays, all your purchases with family and at the same time maintain a constant contact with everyone. it's indeed a nice way to share family albums, memories and more.
iCloud Drive

Storage in Apple cloud service becomes all the more easier. The revamped iCloud service lets you edit on one device and the change will be in effect in all other devices. This means you can get the the most up-to-date version of your documents on
Any of your cloud device.
Continuity
It is a seamless and continuous service that enables receiving and sending text messages and web pages as long as the user is near the phone.
Before updating your device to iOS 8, make sure you have a reliable cloud service. To inform you, DropBox tweeted that their service is facing difficulty in compatibility with iOS 8.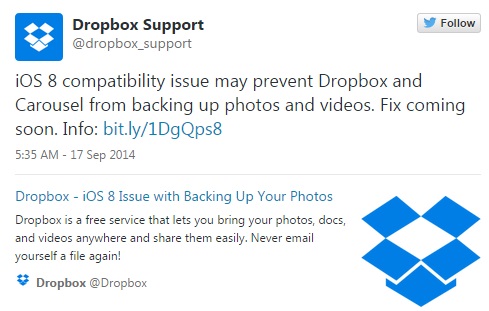 Source: Apple and iOS 8 Release