Google Text to speech application is a voice command application that converts textual instructions to voice instructions by reading out your screen aloud. This app can be uaes by Google Play Books to read out your favorite novel. It has many features like TalkBack and accessibility apps for spoken feedbacks, translation and many more. As many as 7 languages are supported like English (United Kingdom), English (US), French, German, Spanish, Italian and Korean.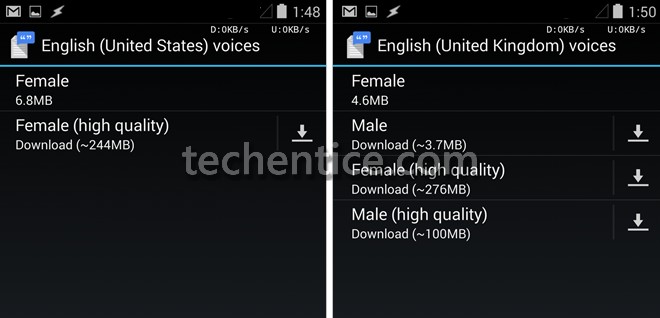 The new additions in version 3 ate High quality voices: English US now features Female (high quality) in addition to Female, while English UK gained three new voices: Male, Female (high quality), and Male (high quality). These high quality voices are large in terms of file size, compared to the regular versions – 244MB for English US Female (high quality), versus just 6.8MB for the regular version. More languages like Brazilian Portuguese and United States Spanish are included. This brings the total of supported languages to nine: German, English UK, English US, Spanish ES, Spanish US, French, Italian, Korean, and Portuguese (BR). But for now only English US and English UK have high-quality voice for now.
Unfortunately, many flaws are there. We won't get Play Books to use English UK, even when we set the phone language to English UK. The best way to have an east method is to use the Google Translate app.