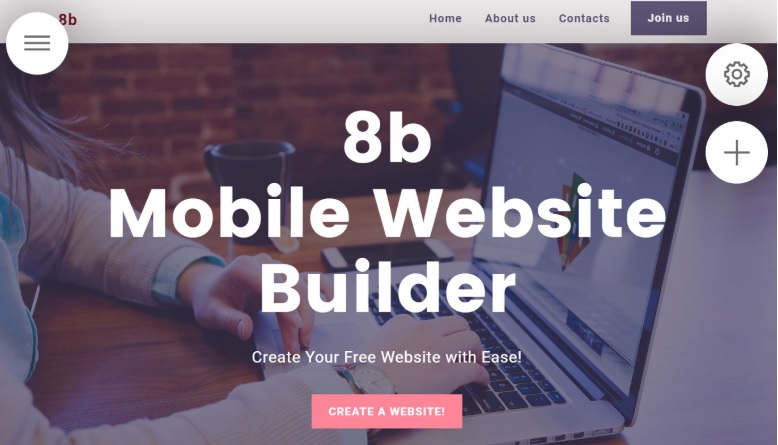 Today every company has a website. It's a very important part of a business because the site helps to sell a service or goods. In other words, design and functionality represent the organization. Check out 8b Website builder that will help you save time and money during a site creation process.
Pros of AMP Builders
With website builders, you can create your site for several hours or even less. It would have a good structure and a nice design. You can do that absolutely for free without any coding skills or design knowledge. You wouldn't have to think about pictures position, colors, structure, and other important things. Below you will learn how to do that.
Today there are a lot of different site builders. Usually, they work with the bootstrap platform. Though today we're going to talk about the AMP platform, which was created by Google. Websites, using the AMP platform have some advantages.
The user experience would be improved because the platform uploads your site much faster. People wouldn't have to wait while a certain piece of information would be shown. AMP uploads the content intuitively, reducing not important elements.
Google gives a certain advantage to sites, which are based on AMP. This platform was created by Google, as it was said earlier, so it gives a certain advantage in ranking and indexing of websites, which use AMP.

All the content would be shown precisely where you designed it on your phone. AMP platform has a good optimization system for phones. All videos, images or illustrations would be shown precisely where you've put them. None of the content would be moved to other places.
Also, the AMP platform uploads those parts of the text, which contain SEO words. It would improve, especially on phones. As it was said earlier, the content on the phones uploads fast plus the SEO optimization brings even more advantage to this process. So your user would find the necessary information very fast.
As you can see, the AMP platform has a lot of advantages. You can find all of them in the 8b Mobile Website Builder, which you can use absolutely for free.
How To Build an AMP Website With 8b
8b Site Creator would help you to create a site for every case. In the list of the templates, you would find 17 different themes, which you can use for free. Even if you wouldn't find the necessary template, you can change the layout of the existing one, so it would fit your needs.
The site creation would take 3 very simple steps. First of all, you need to register, then edit your site and finally publish it. As you know, you wouldn't have to deal with coding or designing. Now you will learn more details about the process of how to build a website based on AMP Pages.

Registration would take no more than one minute. You can click on "Select here" and choose the necessary template. After that, you would see the registration window. Here you can log in with your Google or Facebook account. Also, you can use any email. Also, you can click on "Create Free Website" in the right upper corner and go to the same register page.
After registration, you would see the template of a website, which you have chosen earlier. There would be sections with different structure, images, and texts. You can change the text by clicking on it, the same you can do with images. It's possible to choose your image from your PC or choose any from the Free Online Library. All images have very good quality.
After that, you can easily remove unnecessary sections, edit their layout design and add new. Near every section, you can see two signs "Customize Section" and "Add Section to Page". Click on "Add Section to Page" and you would see the list of sections. In the right column, there're names of all the sections. If you click on one of them, for example on the Header section, you would see all its versions on the left column.
If you need to remove or change some sections, you need to click on Customize Section sign on its right side. In the opened menu, you can click on the "Remove Section" sign at the bottom. At the top of the menu, you can choose another layout or bring more changes to the existing one, by clicking on "Show all Settings".

When your site is finished, you need to publish it. Click on the Hamburger sign on the left upper side and choose the "Publish" option. It's done! Now you can transfer the site to your domain or live site on the 8b server.

Conclusion
Create sites with 8b website builder is extremely easy. Save your time and money with this website builder.