Facebook and WhatsApp are the two biggest social media platforms used by the maximum number of users. We know that Facebook has a state of the art sharing and posting feature. Once upon a time Facebook allowed users to post only text, photos and videos, but now the elements that can be shared have increased significantly. Users can now post Stories, poll, activities, notes and so on. The extent of shareable contents is enormous. We share posts of other people, pages, groups, etc. We also save text, images and videos from Facebook to Phone and then share it on WhatsApp with our contacts. The frequency of sharing content on Facebook with WhatsApp contacts is burgeoning with great pace. Keeping in mind the preferences of people and receiving feedback from people via surveys, Facebook has included a new feature where you can share a Facebook post directly on WhatsApp.
It is not that you could not share Facebook posts with WhatsApp contacts. Yes, it was possible before too. All you need to do is to open the post, click on the arrow beside it, click on Copy Link and then paste it on your WhatsApp chat. There was another way by which it could be done. You could save the image and copy the text and create a similar post on WhatsApp. While the first processing is convincing, the latter one is not credible or feasible.
Now that we can accomplish it with one shot, why not have a look at the process of sharing Facebook posts directly on WhatsApp. Here, an important information is that it is available only for posts which are public. Because Facebook has disabled the Share option for posts that are only shared with
Steps To Share Facebook Posts Directly To Your WhatsApp Contacts
1. Open Facerbook App from your Android or iOS device. Now upload any snap or text.You can also share any public posts of a friend.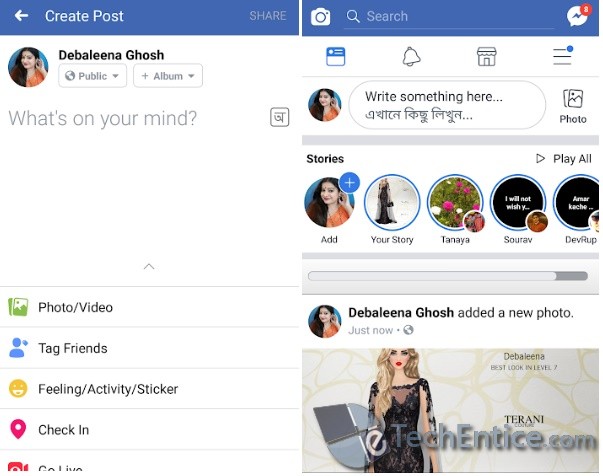 2. When it is uploaded, you have to tap on the Share option. The Share dropdown menu opens, select Send in WhatsApp. Then select the contact with whom you want to share the post.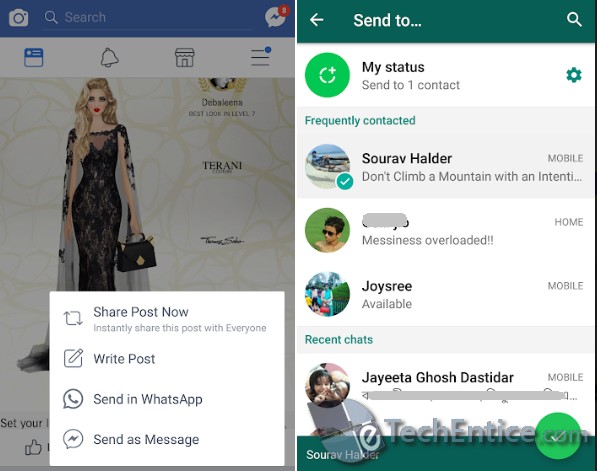 3. The chatbox opens. Click on the Send icon. It's done!