Google has this beautiful feature called Live View AR in its Google Maps navigation application. This feature facilitates users to get a live direction instantly, while the user is walking. In the images below, you can understand what I mean by Live direction. Even though this feature is launched in Google Maps a year back, but many countries still don't have access to this feature because of legal restrictions. The Live View feature works only when the concerned country or region has Street View feature available. Again, smartphones which support Google ARcore will enjoy this feature. So, there are several conditions that need to be fulfilled.
When you turn on the Live View, your device camera will turn on and you can have a glimpse of the direction that leads to your destination. Arrows, reader marks, and names will show you the direction. It is never recommended that you walk while using the Live View, as distraction in mind may cause severe accidents. So, it is always recommended that you stand still, check the live direction, then walk without looking at the smartphone.
There are some add-ons to this feature. For example, some areas may provide you a Reservations option, which consolidates information on flight tickets, hotel bookings, etc.
Here's a brief about using the Google Live View AR Walking Direction
Steps To Use Google Live View AR in Google Maps.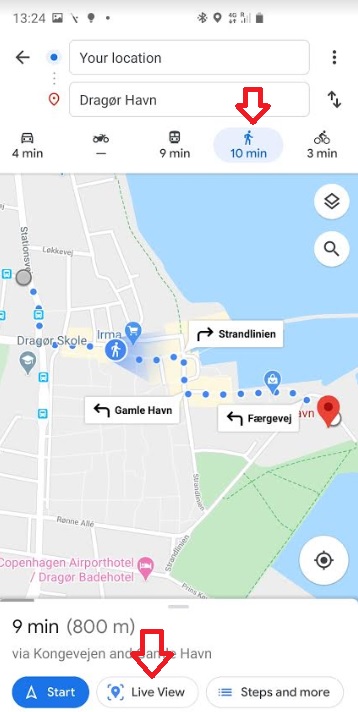 Search for the place where you want to reach.
Then navigate to "Walking"
Next tap on "Live View" which is at the bottom of the screen.
Tap on it and there you go!