NOKIA X was released last week at the Mobile World Congress held at Barcelona. This is Nokia's first ever Android phone. Not only one but three handsets were introduced back to back viz Nokia X, X+ and Nokia XL respectively. But all these handsets will use forked versions of Android. It connects services to Nokia using third party applications.
However Kashamalaga, one of the members of XDA developers found a way to get access to Google's services and apps installed on Nokia X. He posted a video and pictures in tweeter as a proof that he was able to Google Play store and Google Now.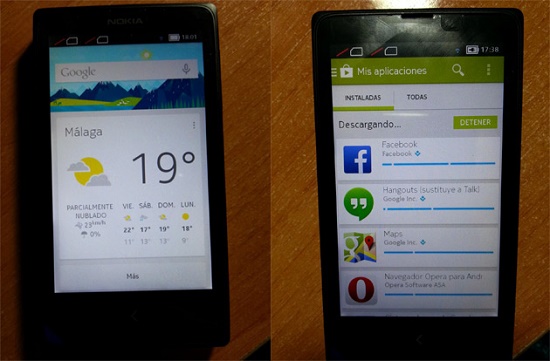 In few weeks, Microsoft will acquire Nokia's phone business and the Nokia X Android handset was designed deliberately to run Microsoft services like Outlook.com, OneDrive, and Skype. Nokia's head of devices, Stephen Elop, said that it was an intentional approach to substitute play store apps by their Microsoft counterparts. Nokia has made its own App store to prevent users from using Play Store.
In reply to Kashamalaga's Nokia is not at all worried. Rather Nokia is happy that the X has been hacked to run Google's Android apps and services. In a tweet the company says it's "very excited to see progress is being made."