Samsung has a lot of gadgets in store to display in MWC and one of them is the Galaxy S5 and another one is the Samsung Galaxy Gear 2. But what we hear now is that not only one but two smart watches will succeed Galaxy Gear and more interestingly the successors have bade farewell to Android and welcomed Tizen instead.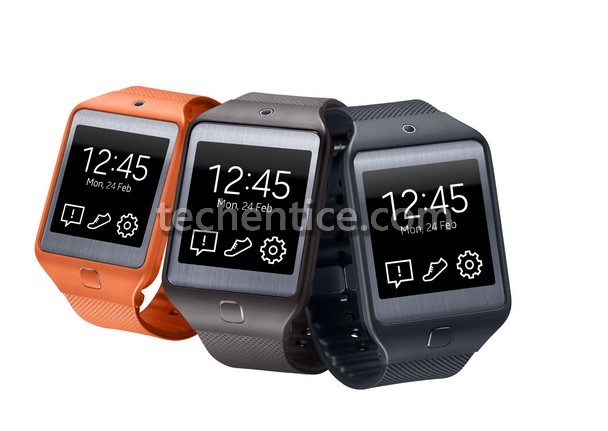 Unlike the bulky heavy Galaxy Gear, Gear 2 is slim with a 2 MP camera on the watch. In Gear this watch was on the strap making it uncomfortable but with Gear 2 the strap is slimmed down. Both Gear 2 and Gear 2 Neo feature an irLED blaster, visible Home button that helps you customize the home screen and active S Voice with a double-tap or long press. They also have 4 GB of hard drive memory, .63in 320×320 AMOLED display and 512MB of RAM with a dual-core 1GHz chip. It supports low powered Bluetooth 4.0 and water and dust resistance to increase longevity of the watches. Unfortunately none of the watches support GPS compatibility and mapping.
The two smart watches running on Tizen platform will focus on fitness and health with an in built heart rate monitor on the rear side of the watch.
The Gear 2 and Gear Neo 2 will be available in 3 hues Charcoal Black, Mocha Grey and Wild Orange, while the Gear 2 replaces grey by Gold Brown. Stay tuned to get more updates on MWC.