Today almost every social media is connected to one another to improve user experience. For example, a user is posting a picture on Instagram may also want to post it in Facebook and Twitter. Instead of uploading the same post in all of these media separately, user can choose Facebook, Twitter among other social media platforms that appear on Instagram just before posting a snap. This way, the image will be posted in all the three apps simultaneously.
Now if you want to Tweet a post in Instagram uploaded by someone else, then you can do that also. One conventional option is copying the URL of the Instagram post, while using the desktop version and then pasting it on Twitter. But Instagram has a shortcut setting that allows you to tweet and Instagram post directly. The settings has been included owing to the extensive use of both the apps. Hence, this small setting has greatly ameliorated the inter-connectivity between the two social media applications. One thing to remember to achieve the objective, you must have the two apps installed on your smartphone. You must also login to both the applications. Check out the steps below:
Steps to Send an Instagram Post Directly to Twitter for Posting
1. Open your Instagram app. Next, open the post that you want to share on Twitter. Click at the three dots, located at the top right corner of the screen. As the options appear, click on Tweet.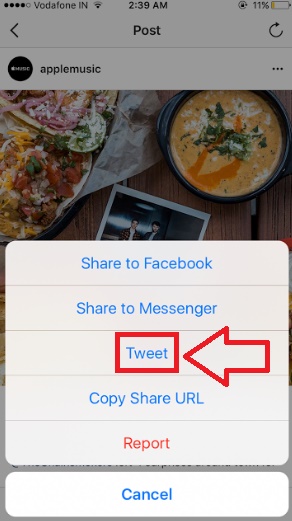 2. The post is redirected to Twitter with a default caption and the URL of the post. You can edit the text caption and change it according to your requirement. Click on Post.
3. The tweet will be posted from your Twitter Account.