The smartphone from HTC which is HTC One M8 was released in March this year whereas Sony brought to limelight Xperia Z3 later this year in September. But with its launch, there have been comparisons between the two phones. So people considering to buy either one of those should compare both based on different specifications of the smartphones.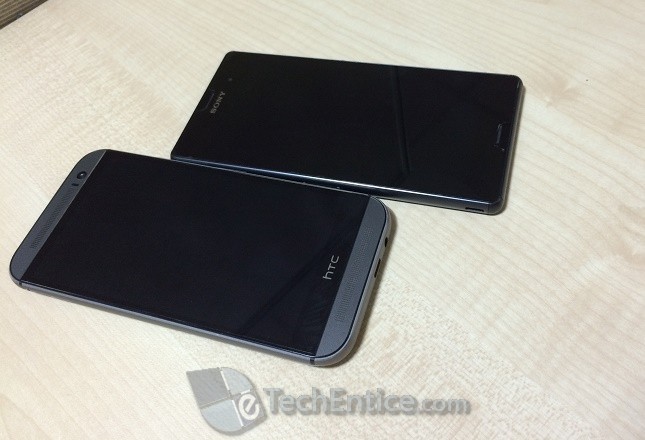 Display, Body and Dimensions
Xperia Z3 has a 5.2 inch 1920 X 1080 IPS LCD display with a pixel density of 424 ppi. On the contrary, HTC One M8 features a slightly smaller display with a 5 inch screen with a pixel density of 441 ppi. Though the resolution of HTC is same as Sony the display comes with a Super LCD3.
On the design part, the One M8 has a metal finish with curves around which is easy to hold and the Sony Xperia has a glass and metal finish. In addition, a nylon coating has been carefully plastered on the corners of the handset which can minimize any damages done to the handset due to accidental fall.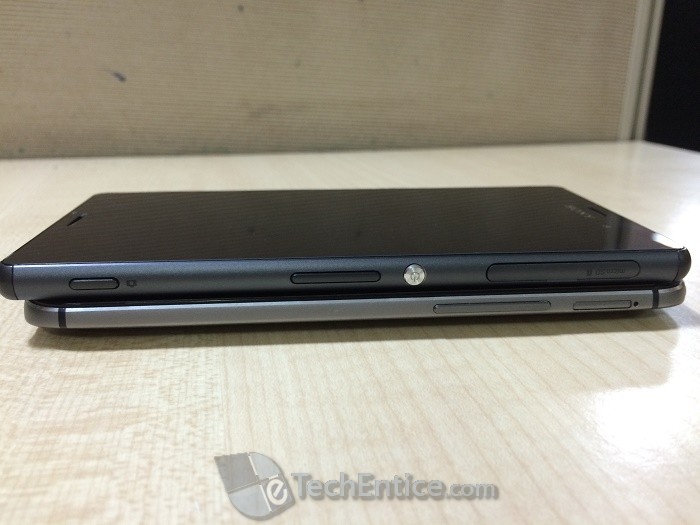 The dimensions of the Xperia are 72 X 146 X 7.3 mm weighing 152 g and that of One M8 are 70.6 X 146.4 X 9.4 mm weighing 160 g.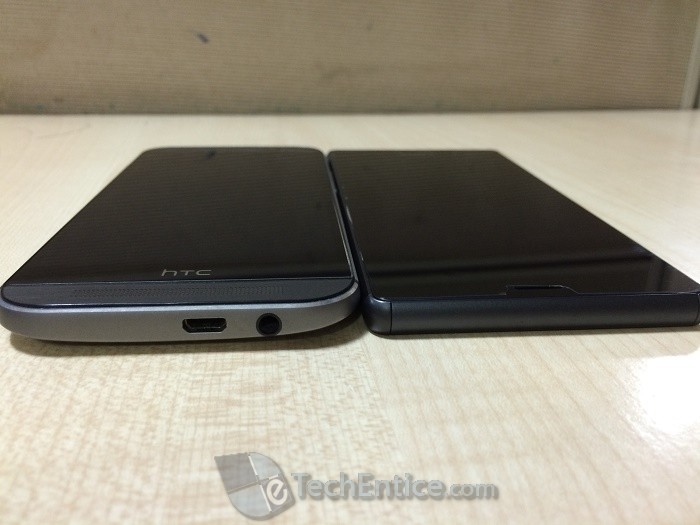 Hardware Specifications
Both the handsets come with the Snapdragon 801 quad core processor. However, the frequency of both are slightly different – Xperia is set at a frequency of 2.5 GHz whereas M8 has got a frequency of 2.3 GHz. The RAM size of both the smartphones also varies, Xperia Z3 has a RAM size of 3 GB and HTC One M8 comes with a RAM size of 2 GB. However both of them provides 16 GB and 32 GB of internal storage and has a micro SD support expansion of up to 128 GB.
Operating System
Xperia Z3 runs on Android 4.4.4 with Xperia UI and on the other hand One M8 runs on Android 4.4.2 which is upgradeable to 4.4.3 and comes with Sense 6.0.
Camera and Battery
Xperia Z3 sports a rear camera with 20.7 Megapixel with a LED flash. It also has features like auto focus and a 25 mm wide angle lens. The front camera of the smartphone has a resolution of 2.2 Megapixel. On the other hand the HTC One M8 has a rear camera of 4.0 Ultrapixels with dual LED flash. To be specific, it comes bundled with two lenses to capture picture perfect images and it also comes with a pretty good 5 Megapixel front camera to capture some good selfies.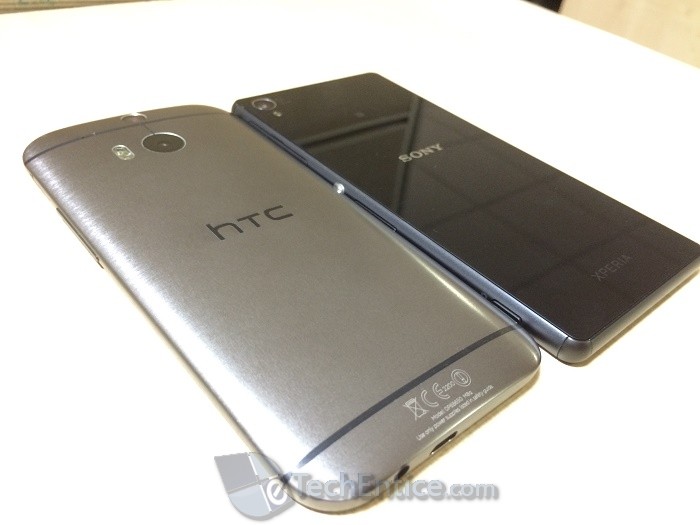 Coming to the battery, One M8 has a decent 2600 mAh battery whereas Sony has a battery unit of 2100 mAh.
Miscellaneous specifications
Both the handsets have support for NFC, Bluetooth 4.0, micro USB 2.0, 4G LTE. Only one thing that HTC comes with and Sony does not is the infrared port. Nano SIM is supported by both the devices and both of them comes with dual SIM support variant.
Xperia Z3 comes in black, white, silver, green and copper hues whereas HTC One M8 has shades of gunmetal grey, glacial silver and amber gold. Another thing unique in Xperia Z3 is that it comes equipped with dust and water resistant exterior which is absent in One M8.
Price
The HTC One M8 variant is priced at AU $ 599.95 only whereas Sony Xperia Z3 comes with a price of AU $ 799.95 only.
So the above factors need to be kept in mind before you fix your mind into purchasing any of these.