WhatsApp has been in the headlines since a few days after launching its revamped Status feature. The new Status feature is just like Snapchat, where the Status is valid only for 24 hours. However, WhatsApp has only invited criticism because upeople are complaining that the application is losing its originality by copying features straight from Snapchat. previously WhatsApp Status had some significance. The Status messages were short and had some significances. It actually propagated the right status, for e.g. if you are at the gym, you could change the status to "At the gym". If you were sleeping, you could have set the status as "Sleeping". If you were busy, you could set it as" At the Office", "can't talk, WhatsApp only" and so on.
But the perception has been completely changed after the arrival of the new type of WhatsApp Status. This new Whatspp Status allows you to update status with images, video, gifs. It has also brought the concept of stories like Snapchat and Instagram. But users are not at all convinced with this new update. For these types of status messages, there are already Facebook, Instagram, Snapchat. So why is this repetition necessary? This is what everyone is saying. But then there are many users who do not use Snapchat or Instagram but only WhatsApp. For them, this is definitely a golden opportunity to stay tuned with the latest trends. So, for those users, here is a simple guide on how to update your Status with the new Updated WhatsApp Status.
Steps to Update Your Status with The New Updated WhatsApp Status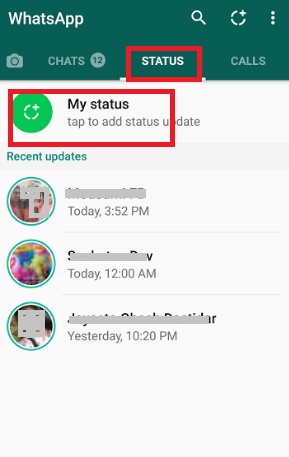 1. First open WhatsApp. Along with the existing tabs of calls, Contact, Chats, there is a new tab called Status and another status which has the Camera icon. These Camera icon lets you capture stories for WhatsApp.
2. Go to Status Tab. Click on the Green circular icon beside My Status. Then capture a snap or video and upload it with a caption. That' all!